It's early evening when I'm scheduled to meet Richa Dalwani to talk about her venture, The Heritage Art. We're sipping adrak chai, like Amdavadis usually do, just off C. G. Road. 
Ranked as one of the costliest retail locations in the city, C. G. Road was built by a businessman in the 60s. The stretch is a reminder that this town is built by its people.
That's why, it's not surprising when Dalwani says, "Why not make something that's commercial but also people-centric? Something that people can join, like a movement. So that we can bring a change." The Heritage Art is Dalwani's online shop, and an attempt to fill the void of heritage art or souvenirs in the city. You know, something you can keep in your home to remind you of Ahmedabad. It also helps that Ahmedabad is now a UNESCO 'World Heritage City'. This tag has given Dalwani more reasons to want to set up her art shop. "We want to be an affordable art company, so that we have a piece of heritage in every room," she adds. 
Setting Up Shop
While Dalwani only set up The Heritage Art in 2019, her interest in contributing to Ahmedabad culturally has been around for long. Initially, she decided to acquire a company secretary degree. On the day of receiving her certificate, she ditched the idea of working as one. She became a copywriter with a local company, writing about museums in Ahmedabad and Gandhi, instead.
It was while studying for her master's degree that Dalwani found time to explore her own home like a tourist. "We need to see our city like a tourist would. We live here, so we take it for granted, but get excited about monuments when we are travelling elsewhere," she remarks. Dalwani walked around the old city admiring the Teen Darwaza, marvelled at the carvings of the Hutheesing Jain Temple and took notice of the old-worldly lamps on Ellisbridge. The city's monuments and old streets inspired her to not just read more about Ahmedabad, but also describe the city via poetry. So, she put her pen to paper. But for Dalwani that wasn't enough.
The monuments Dalwani toured and the history she dug, found home in the art that her business now curates. You'll find Rani Ki Vav, Ellisbridge, Jhulta Minara, among others, illustrated or embroidered and framed; or as notebook covers, calendars and more. All of which, you can purchase online via The Heritage Art's website. And, the big plus is that they're all affordable. You can buy diaries for Rs. 129, journals for Rs. 399, art prints (photo & hand-embroidered) starting at Rs. 1,499, khadi stoles at Rs. 1,499, and more.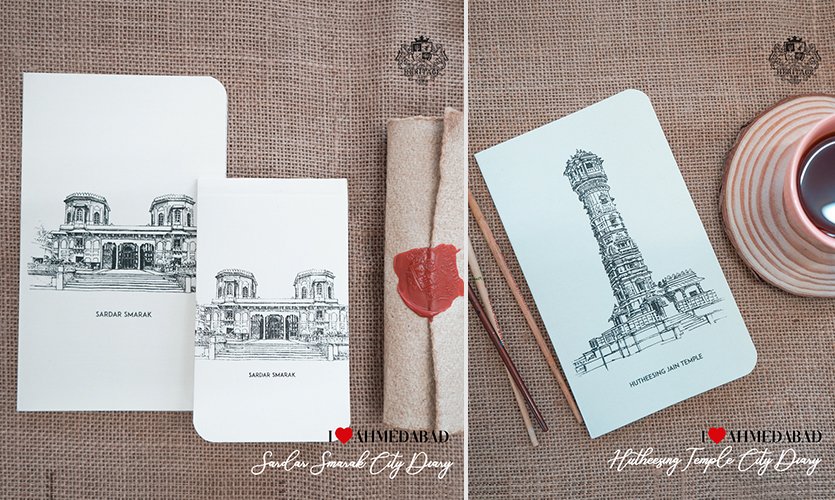 Creating Souvenirs
Talking about the process of documenting a monument and translating it into art, Dalwani says, "There's research on choosing the monument. Next, we document it via written work, photographs and videos. And then, we find artists who can either sketch, illustrate, paint with watercolours. Later embroidery artists come in. It takes several months to produce these works." Once the art is ready digitally, Dalwani then ventures out to select which art goes on what paper, and the different inks to be used to maintain quality. "As these are souvenirs, they need to last a lifetime." Dalwani works with artists in and around Ahmedabad who're equally passionate about the city. "Thankfully, we've found artists who've been wanting to work on such projects for a long time. So, it's a win-win collaboration," she adds.
But how does one decide which monument makes for great art? After all, you'll find Mughal, Jain and Indo-Saracenic architectural styles in Ahmedabad. "It's a challenge to ensure we have a mix of all monuments: Hindu, Jain and Islamic. But, we totally skip monuments that people talk about all the time," she says. That's why you won't find common structures like Sidi Saiyyed's Jali and Ahmedabad's chabutras amongst The Heritage Art's offerings.
Read more: The Horus Eye – The Sparrow's political editor analyses policies & current affairs.
However, Dalwani is not the only one working on promoting Ahmedabad's heritage. Under the Ahmedabad World Heritage City Trust (AWHCT), the city will finally have a catalogue of souvenirs. In November 2020, AWHCT announced that artisans and craftsmen creating unique souvenirs were welcome to submit entries for the catalogue for free. Once the catalogue is ready, it will be published online. So, one could purchase art and embroidered works of the city online too. After all, across the globe tourism experts have always emphasised the importance of a souvenir shop and a dedicated agency to create them. "Everytime they [tourists] come, they can't buy a bandhani or ajrakh. Other cities have affordable and quirky products. In Ahmedabad, that's what we're missing," says Dalwani.
Void Of Pride
Speaking of what's missing, Dalwani points out the lack of public interest in promoting Ahmedabad's heritage and culture. Certifying tourist guides, restoration of fort walls and other structures come under the municipal corporation's purview. But, what do Amdavadis do? "We're missing out on a system where the public can be integrated and promote the city's heritage. There's no concrete system for the people to contribute towards the city," she adds. 
In the meantime, Dalwani aspires to continue growing her brand. Her plans for The Heritage Art include working with craft centres looking to employ artisans who specialise in one craft form. Other plans include adding more heritage art offerings and also customising products. For example, if you're in awe of Mata Ni Pachedi, The Heritage Art hopes to customise it in a more contemporary format and also add your personal heritage to the art mix. "If you're buying from us, you're not buying to support us. You're buying to support the community, to support Ahmedabad's heritage; and you're ultimately promoting local art and culture," she concludes. 
Amdavadis is a weekly column written by Junisha Dama highlighting unique Amdavadis who're entrepreneurs, artists or are contributing to the city creatively. This column does not intend or aim to promote any business or any ideology.