Living a sustainable life is becoming increasingly trendy, but more importantly, it's the need of the hour. Rupjyoti Gogoi, a small entrepreneur from Assam has been contributing in decreasing the use of plastics and is converting them into handlooms. 
Rupjyoti Gogoi who hails from Assam's Kaziranga region began her enterprise Village Weaves, to curb the plastic menace across India. "It is a great initiative taken by Rupjyoti to tackle the issues revolving around plastic use and its debilitating effects on our planet," adds Vineeta Thakur, member of All India Handloom Handicraft Welfare Association.  In 2004, Gogoi began her venture after getting concerned regarding the rampant usage of plastics in India. She started out on her own, and later received immense support from other women in her neighborhood who joined in to help collect plastics from the surrounding areas. 
According to the Central Pollution Control Board, 26,000 tonnes of plastic waste is generated by 60 major cities across India. "With the soaring utility of plastics amongst the masses, it is bound to cause repercussions," remarks Thakur.
Read more: Is the fashion industry bargaining on diversity?
"The popularity of jute, textile products has drastically lowered with the increased use of plastics. The people tend to drift more towards plastics and that in turn has damaged the handloom business", says Deepak Chautal, an independent owner of a handloom store in Lucknow. But with Gogoi's initiative, people have become more aware of the detrimental effects of plastics and the propitious end result of using handlooms instead.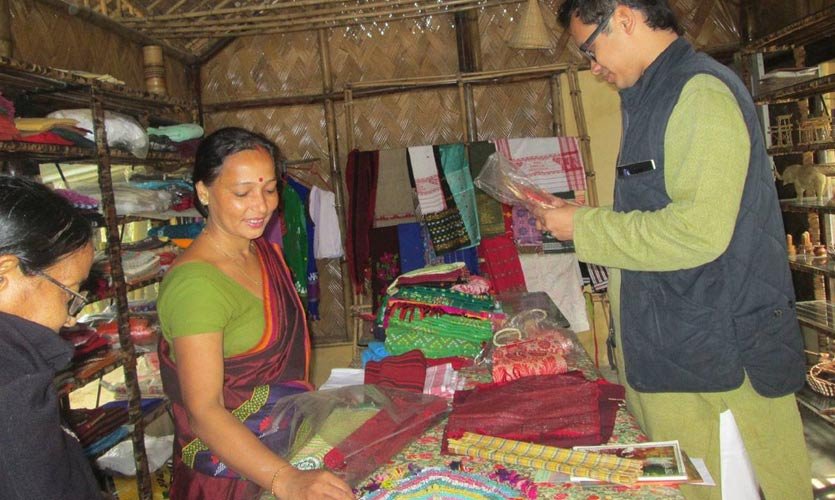 Blooming efforts providing employment
Gogoi's initiative took off so well that she had an outpouring of assistance from nearly 2000 women from Assam and also from other parts of the country. She also took the opportunity of teaching her peers the techniques of recycling and turning plastic into daily use products. Chautal remarks, "Rupjyoti's enterprise has not only changed the image of handlooms but has also opened doors of employment to the ladies in the rural areas." 
Read more: We mapped the salwaar kameez's route to Indian wardrobes
Ranging from transforming litter and plastic waste into vibrant colourful weaves to turning waste into handbags, doormats and other finished products, Gogoi's diligent efforts have reached international acclaim. And, her orders rocketed among foreign nationals. She also has an online portal showcasing and selling her products, which has also been quite popular.
Trimming the use of plastics
Around 3.3 metric tonnes per year of plastic waste generated by India alone, the outcome of such sustainable businesses will amalgamate in the future to combat the fight against plastics.
A draft of the Plastic Waste Management Rules, 2021 issued by the Union Ministry of Environment, Forests and Climate Change (MoEFCC) on March 112021, has entailed certain changes for India to decline its plastic waste. These include incorporation of thermoplastic, single-use plastic items and woven plastic bags. Such additions to the daily lives will certainly show the dire transformations and will also curtail plastic use.
The perpetual plastic handling will surely take a while to cease. However, endeavors like Rupjyoti Gogoi's venture are beacons of light in this day and age.