On April 13, 2022, a fresh letter threatening Kashmiri Pandits to "leave Kashmir or get killed" surfaced in the Veervan Pandit Colony in Baramulla, reportedly "sent by post" by 'Lashker-e-Islam'.
Kashmiri Pandits in the valley are under threat once again. But media houses, whilst debating the authenticity of these letters instead of the threats, seem to be losing out on the plot.
Recent Threats
The letter issued by 'Lashker-e-Islam', as per "fact-checking organisation" Alt News, first surfaced online on April 13, posted on Twitter by Kulgam sarpanch and BJP district spokesperson Vijay Raina. The letter was received by post, by the security detail of the Veervan colony, where about 200 Kashmiri Pandit families have reportedly been rehabilitated, and have secured government jobs under the Pradhan Mantri Rozgar Yojana. "Every Kashmiri Pandit is a threat to Islamic Kashmir and Quran is clear on the issue to kill all the Kafirs who do not accept Allah (SWT) and His Prophet (P.B.U.H.). Our brothers have started what was left unattended in 1990," states the letter. A report by Times Now says, "However, it doesn't seem to be real, according to the police, given the fact that the said terrorist organisation's existence is uncertain. The police assured that robust precautions and security measures have been put in place nonetheless." Although the letter further claims, "We have supporters everywhere in Kashmir even in the Police so Kafirs either accept Allah (SWT) and His Prophet (P.B.U.H.) as only Supreme Divine, or leave Kashmir else be ready to be dispatched to hell." The letter also threatens, "If Muslims of Kashmir do not remain aloof from Kafirs, they will also be killed."
This was followed by another letter issued by 'Kashmir Freedom Fighters' (KFF), who claimed responsibility for a fatal attack on Dogra Hindu community member Satish Kumar Singh, on the same day. It warned that their "operations against all these traitors and collaborators will intensify in days to come". On April 15, the KFF shot and killed Goushbugh Pattan region's independent sarpanch, Manzoor Ahmed Bangroo. While claiming responsibility for the attack in another letter, the group called him a "BJP sarpanch" and said that they had not targeted innocent people but killed "the ones who have sold the blood of our beloved martyrs for some pennies". Condemning his killing, the BJP has clarified that Manzoor Ahmed Bangroo was not a party member, but was working for the development of his region in an independent and personal capacity.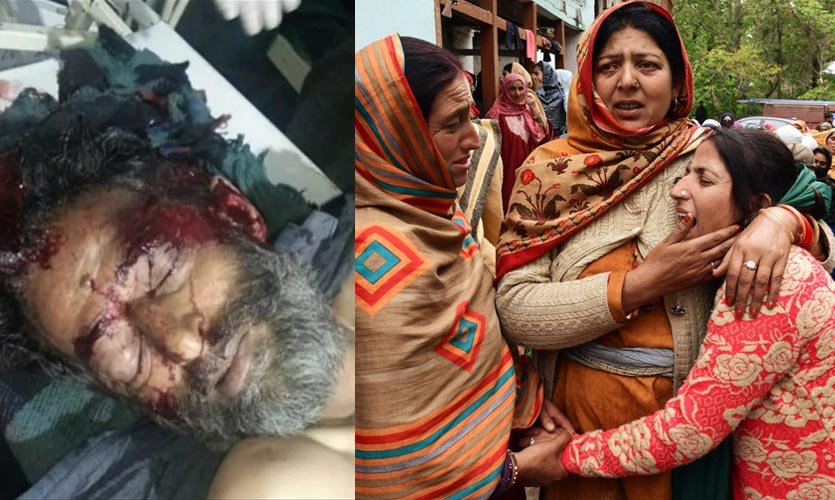 TV9 executive editor Aditya Raj Kaul, a Kashmiri Pandit himself, has also shared a screenshot of the pro-Pakistan 'Kashmir Fight' blog. Claiming to be "victim of conflict", the blog is infamous for running smear campaigns and profiling prominent Kashmiris, journalists, social activists, and bureaucrats. This included Kashmiri Hindu businessmen, and Kashmiri Muslim leaders who didn't comply with their ideologies. Referring to the union territory of Jammu and Kashmir as IIOJK – Indian Illegally Occupied Jammu and Kashmir – as officially termed by Pakistan, the blog explains how it is "a disputed area", "occupied forcefully and cunningly by the Fascist Occupier India". It reads, "These non-locals, Pandiths, tourists and employees should not get carried away with the false and mirage promises of this occupier fascist regime. We want to make it clear that Resistance Fighters will not hesitate to carry out strikes against any such stooges who plays part in the dirty politics/game of this fascist occupier in any way."
In 2018, it had profiled Kashmiri journalist and Rising Kashmir editor Shujat Bukhari and termed him a "traitor" and "collaborator", days after which he was assassinated. Advocate and TV panellist Babar Qadri was profiled by the blog in 2020, following which he was shot and killed at his Hawal residence. It also labelled prominent Kashmiri jeweller Satpal Nischal as an informer, leading to his murder in January 2021. Reportedly, J&K Police had been requesting WordPress to suspend the blog since 2018. It was finally taken down in October 2021, a couple weeks after Kashmiri Pandit pharmacy owner Makhan Lal Bindroo was shot at point blank range.
Media Trial
Organisations like Alt News, those who run them, and their associates and followers, have raised questions over the authenticity of the letter published by 'Lashker-e-Islam'. Alt News, while completely ignoring the threat issued, has run an article that has since gone viral, explaining how the letter has not been issued by Pak-sponsored and Kashmir-based group Lashkar-e-Islam. "Fact-checker" and Alt News co-founder Mohammed Zubair, as he explains via a Twitter thread, how his organisation went to great lengths over two days, to get quotes and speak to several people, and arrived at the conclusion that the letter issued is "dubious and not a genuine handiwork of Lashkar-e-Islam". The article published by Alt News cites several discrepancies such as the difference in the name of the organisation: the letterhead reads 'Lashker' instead of 'Lashkar'; the logo used is that of Jamaat-e-Dawa Pakistan, a different terror organisation recognised as an alias of the Lashkar-e-Taiba by the United Nations; the letter is not signed by the Lashkar commander and does not mention his name; and so on. Additionally, the article states that The Resistance Front (TRF) had claimed responsibility of the murders of both Nischal and Bindroo at the time.
Alt News, as a fact-checking media organisation (as it claims to be), has a heavy responsibility to make sure that only factually correct news reaches the masses. Unfortunately, their efforts seem to be taking them towards becoming a less than credible source, or worse, naïve. The article by Mohammed Zubair, Pratik Sinha, and Pooja Chaudhuri, seems to gloss over historical and proven facts, and the ground reality of Kashmir. Although they seem to focus solely on the authenticity of the letter, the recurring tone of the article and Zubair's widely lauded tweets also raise questions on the authenticity of the threats, thereby making a mockery of the minority community in the valley, which includes outstation workers along with Kashmiri Pandit natives. They seem to have forgotten the series of events in 1990, when similar kill lists were issued by the Jammu and Kashmir Liberation Front and the Hizb-ul-Mujahideen, and circulated in mosques, without the facility of social media at the time. They seem to not know how local terror groups are commissioned to do the bidding of larger, funded terrorist organisations. They seem to not be familiar with the situations faced by Kashmiri Pandits over the years, and how it is virtually impossible to make them so miserable without certain locals providing logistical support. They seem to not realise that Islamist militants do not care about which name they use to terrorise the local Hindu and minority population, or about grammar and copyright violations.
Forgive and Forget?
The recent targeted killings have come during a wave of communal violence that has engulfed parts of India. Following violent incidents prompted by stone-pelting on Ram Navami processions across the country, civilians across social media started suggesting that these rallies should have been avoided in Muslim-dominated areas and Hindus should not have venture in them. Responding to this, highlighting how this would mean further "ghettoisation" of the Muslim community (as is claimed), author and Swarajya consulting editor Anand Ranganathan warns, "If history taught us anything it is that Muslim areas soon turn into Muslim countries. All it requires is a Jinnah. And today we have hundreds." This came after seditious slogans against India and Kashmiri Pandits were raised in Srinagar's Jamia Masjid on April 8, after Friday prayers. As per first hand accounts, the mosque was the epicentre of organising terror incidents and targeted killings in 1990.
While violence is not the solution, the Gandhian philosophy and theology of bearing violence and turning the other cheek, cannot be condoned. Justice for Kashmiri Pandits still seems to be some ways down the road. But is allowing their slaughter to continue acceptable? More than holding the problematic part of the local populace responsible, it may be high time that the media start to take their responsibility as a reliable source of information and discourse seriously.
Those who forget their history, especially one as violent as ours, are doomed to repeat it.
The Horus Eye is a weekly column written by Divya Bhan analysing current affairs and policies. This column does not intend or aim to promote any ideology and does not reflect the official position of The Sparrow.
Also read: 32 Years Of Fault Lines: Time To Reopen Kashmir Files?
Also read: Why Does The Ethnic Cleansing Of Kashmiri Pandits Need To Be Recognised As A Genocide?