In a new survey conducted by pollster Ipsos, just days before Boris Johnson's term ends next week, the current Conservative Party leader ranked first in the list of prime ministers who the people think did a bad job at the top post. In a poll conducted to judge post-World War II British leaders since 1945, 49 percent of the British public gave the outgoing prime minister a poor performance rating.
Ipsos interviewed a representative sample of 1,111 Britons aged 18+. Online interviews were conducted between August 19 and 22, and data were weighted to match the population profile. All polls are subject to a wide range of potential sources of error.
As per the report, Johnson managed to squander one of the strongest political positions in history, in record time. Having won an 80-seat majority in December 2019, his authority dissipated swiftly through denial, disorganisation, and even outright lying in the face of scandal after scandal.
On the back of the "get Brexit done" pledge, Johnson's election victory was the high point in his political career. He struggled with the coronavirus pandemic after securing Britain's exit from the European Union, imposed the first lockdown late in March 2020, and cancelled a plan to loosen restrictions at the last minute. Johnson's downfall was not just a result of policy disagreements, but rather of character failings. During the pandemic, 10 Downing Street was dominated by lax culture, with government officials, advisers and officials attending booze-fuelled parties, while the entire country stayed home.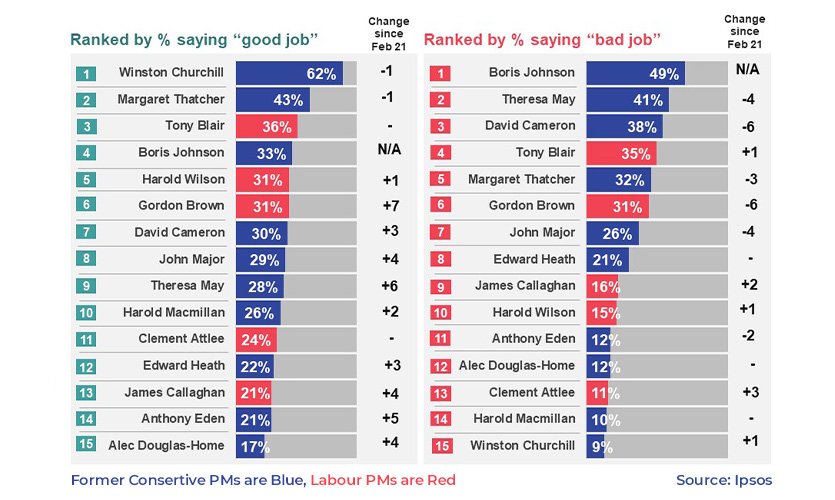 Theresa May had performed worse than his immediate predecessors, with 41 percent poll participants saying that she had done a poor job. As with Johnson, May suffered a vertiginous fall. Following the Brexit referendum, she became prime minister with a double-digit lead in opinion polls, but she was found lacking in the 2017 general election campaign when she failed to connect with the electorate, and lost the Conservative Party's overall majority.
After the Brexit vote, May was left scrambling for a plan to implement the UK's withdrawal from the EU. Nonetheless, May lacked a majority in the parliament and did not have the support of many of her own party members, many of whom had pressed for a harder Brexit, to the point that she was out of options. Due to the prominence of Brexit, May was unable to make significant progress in other domestic policy areas. Because of her party's opposition, she was unable to achieve Brexit, and was ultimately forced to resign without reaching any sort of agreement on a departure strategy with the EU.
Following Theresa May, David Cameron achieved 38 percent votes for doing a poor job. Although Cameron won two elections, his overconfident approach to opposing referendums led to the end of his government, and left a legacy of strife that persists to this day. Despite the fact that Cameron called and won the 2014 Scottish referendum, it did not resolve the independence debate as Cameron had planned. However, it was Cameron's surprise loss in the Brexit vote that compelled him to step down as prime minister and demand that the UK leave the EU, even if it took many years and two prime ministers to accomplish. 
According to the survey, Johnson's political idol Winston Churchill came out on top, with 62 percent of the respondents believing that the wartime leader did a good job. According to Keiran Pedley, head of political research at Ipsos, Margaret Thatcher is second on the list of prime ministers that the public believes performed well at their positions. Churchill is ranked first. With almost 33 percent thinking that the party gate scandal-hit departing leader had done a good job in the office, Johnson had the fourth-highest percentage of respondents saying he had done well, after only Margaret Thatcher and Tony Blair, at 36 percent and 43 percent, respectively.
Boris Johnson said that he would be alright coming in at fourth place on that list, but would be less pleased if he came out on top for doing a poor job. Theresa May received a net rating of minus 13, while Cameron received a net rating of minus 8. Ipsos noted that the people at the top of the list of undesirable jobs exhibit some degree of recency bias.
According to Ipsos, the percentage of respondents who said Gordon Brown did a good job increased from 24 percent in February 2021, to 31 percent in August 2022, while the percentage who said he did a terrible job decreased from 37 percent to 31 percent. After the Conservative Party leadership election on Monday, Johnson's replacement will either be former chancellor Rishi Sunak or Foreign Secretary Liz Truss. In the meanwhile, Johnson is on a farewell tour of the UK before he formally leaves office.
On Thursday, during the tour's final stop in Suffolk, in eastern England, he used a pivotal speech to reiterate the government's commitment to invest GBP 700 million in a deal to purchase a sizable interest, estimated to be over 20 percent, in a new nuclear power station. A fifth of all households in the UK, i.e. 6 million homes, will be powered by the Sizewell facility which is planned for the area. Johnson used his final days to promote nuclear energy as "cheap, clean, dependable, and plentiful" in order to combat the crisis brought on by the conflict in Ukraine, and the skyrocketing prices of oil and gas throughout the world.
The Labour administration squandered for 13 years by doing little to advance the nuclear business in the nation because they said it was not profitable. "Tell that to the British business and industries that are short of affordable electricity, tell that to the families struggling with the cost of heat and light this winter," said Johnson, blaming the Opposition. The "valedictory tour" which included participating in a police raid in south London and launching a new submarine in Barrow-on-Furness, in northwestern England, comes to an end today as he completes his final week in office as British prime minister.
Read more: Pakistan Uses Narco-Terrorism To Wage War Against India: ORF Report