American artist Andy Warhol's iconic 1964 silk-screen portrait of Marilyn Monroe was sold for $195 million (€185 million) on Monday night in New York, the highest price ever paid for an American artwork at auction.
"Shot Sage Blue Marilyn" surpassed a previous high of $110.5 million paid in 2017 for a Jean-Michel Basquiat skull painting. According to Christie's, it also became the second most expensive artwork ever sold at auction, trailing Leonardo da Vinci's "Salvator Mundi," which fetched more than $450 million in 2017.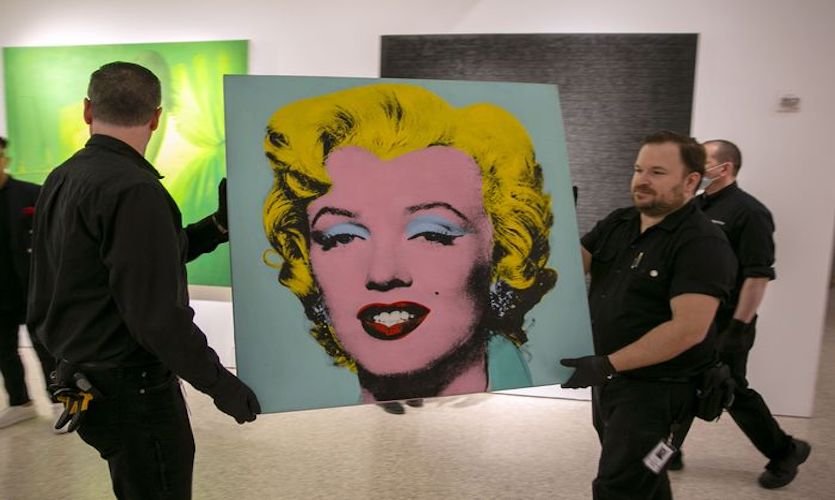 The record sale transpired as investors sought safe-haven investments such as art amid global financial market uncertainty caused by Russia's invasion of Ukraine. The portrait was expected to fetch up to $400 million at auction. The final total price was $195,040,000.
It was painted soon after Monroe's death by barbiturate overdose in 1962, and it is part of a series of five portraits of Monroe that became known as the "Shot" series.
The news of Monroe's death on August 5, 1962, "struck a personal chord for Warhol," according to Christie's, who began featuring her in his work shortly after, using a cropped publicity photo from the film "Niagara."
The works in the auction on Monday came from the estate of Swiss art dealers Thomas and Doris Ammann. The art sales proceeds will benefit their charitable foundation, which is dedicated to improving the lives of children all over the world.