Indian food-tech company Zomato, in its over a decade-long service to the Indian consumer segment, has proved to be a huge scam by indulging in a multitude of fraudulent activities, and it is high time someone talks about it.
The finger-licking food getting delivered to your doorstep, discounts and memberships, all might tempt you to order from Zomato. But the next time you do it, remember: Right in front of your eyes lies a realm of awful user experiences borne by the company's loyal customers, which requires assertive and immediate addressal.
"Where Is My Order?"
Zomato has failed to prove its standing as a reliable and loyal service platform for its main purpose – food delivery. It seems as if the company always finds itself amidst trouble, whether it is exploiting their delivery partners, or wholly attending to their customers' needs.
The company has been accused of a plethora of mishandled deliveries and online payment frauds, as evident from the angry complaints on several consumer complaint helplines and forums. A very common trend of deceitful activities by the food-tech giant is duping users who pay for their food via an online medium.
A regular customer on Zomato paid online for a dessert order, which was later cancelled by a Zomato executive without their consent or knowledge. On top of that, the customer was also levied a cancellation charge similar to that of the cost of the order. A complaint was filed by the aggrieved with the Consumer Complaints Court, a non-profit organisation that helps consumers pursue such cases.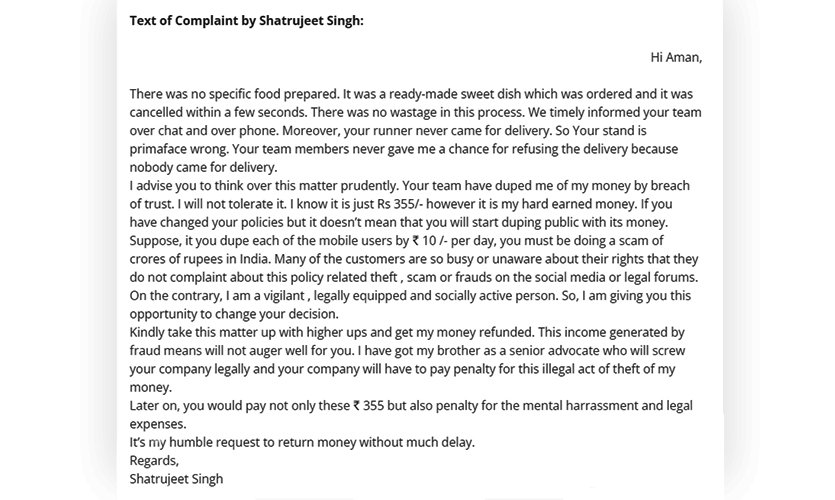 An email sent by the customer to Zomato read, "Your executive cancelled my order number 1366647037 without any refund without my consent. Kindly refund my money to my Paytm number otherwise I will raise this theft of Re 355 on different social media forums. This will become a highly loss making preposition for you."
In response to this, Zomato explained their new cancellation policies while also casually overlooking the essence of the complaint which clearly mentioned that the cancellation was done from their side. 
The reply read:
"We would like to inform you that Zomato doesn't support cancellation in it's platform and according to our new policies, if the order gets cancelled on customer's request than cancellation charges equal to the order value gets levied and we won't be able to refund the same. We do understand this policy is not good as in customer's point of view but frequent cancellation can leads to wastage of food."
A similar series of events took place with a loyal Zomato user in Ahmedabad, Gujarat, where an already paid-for order was not delivered, yet the order tracking system indicated that it was.
The complaint by the aggrieved customer, Bhakti Parikh, read, "A paid order has not been delivered. The restaurant isn't answering calls and even the rider. He delayed my order for more than 40 mins and then showed delivered. Where the hell did he deliver?"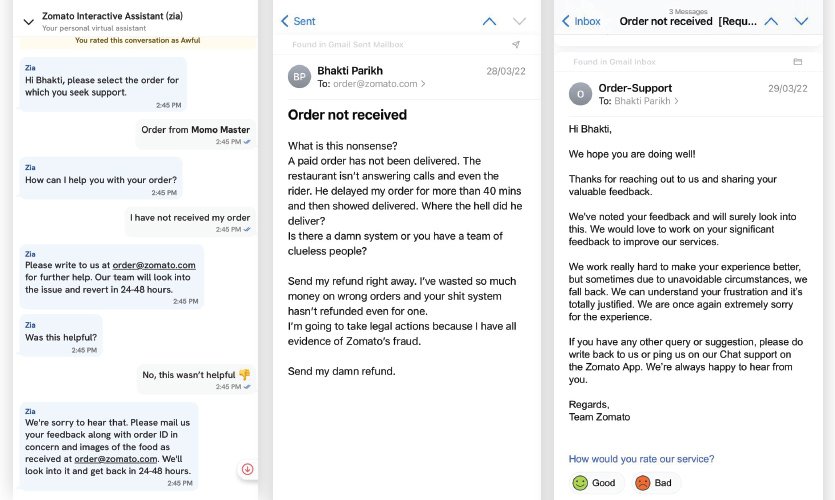 An email sent by her to Zomato read, "Send my refund right away. I've wasted so much money on wrong orders and your shit system hasn't refunded even for one. I'm going to take legal actions because I have all evidence of Zomato's fraud."
The conveniences offered by a food delivery app, evidently come with their consumer scamming tendencies. Such fraudulent activities are not only limited to this issue but stretch to a much deeper, exploitative system that Zomato has cleverly established. What's even more appalling is the lack of sincerity the company showcases in its response to complaints.
A wide array of users belonging to different sections of the society avail the services of Zomato. This includes university students, recent graduates, people belonging to middle class families, and other individuals with limited income levels. No matter what the total cost of the order is, falling prey to such scams where a company as big as Zomato loots people of their hard-earned money for an issue persisting from their side, is burdensome and deceitful. Not all customers are vigilant enough to understand that they are being duped or legally equipped to take actions. Moreover, Zomato executives get away with it, without even a sliver of remorse.
It is also astonishing how a hugely successful tech company does not have an appropriate helpline system for its customers. In situations like these, all that the users can do is chat with an artificial intelligence chatbot called 'ZIA' (Zomato Interactive Assistance), which usually fails to understand the issue and eventually directs them to Zomato's email address, a reply to which may take more than five business days, and is almost never satisfactory.
Earlier this year, in June, the Department of Consumer Affairs directed Swiggy and Zomato, the two major online food-business operators, to immediately address issues and grievances raised by its users. As per the department's data, it received over 2,800 grievances against Zomato within the duration of the last 12 months. A breakdown of the data revealed 707 complaints about deficiency in service, around 500 complaints regarding the delivery of damaged/opened food products, 319 complaints about the food not getting delivered, 307 complaints about users not receiving the deserved refund owing to failure of delivery, and 298 complaints about the delivery of wrong products.
After discussing these issues in a meeting, the food-tech company was asked to set up a proper customer helpline and grievance redressal system at the earliest. Has it been done yet? No. From the amount of complaints that have popped up each day on several consumer helpline forums since the Union government's directive, it doesn't seem like Zomato has actively indulged in the betterment of customer experience to ensure that such incidents are not repeated. Despite constantly promising change and improvement, they have failed terribly enough to give rise to articles such as these.
Does The Onus To Do Better Rest Only On Zomato?
From the more than 120 years old Dabbawala meal delivery service, to the advent of technology enabling the 'food at your doorstep' concept, there has been a significant amount of development in the food-tech industry over the last few years. Today, there are more than 1500 food-tech startups in the country providing a variety of services, from food-delivery to mobile based cloud kitchens, and much more. However, the market is still majorly dominated by Zomato, followed by Swiggy. 
In comparison to several other food-tech players in the Indian market, Zomato is on a pedestal due to its arguably all-rounded service, thus, allowing it to function as a near-monopoly. Is Zomato taking advantage of this situation? Definitely, yes. The company doesn't have to worry about losing its customers even if it indulges in such scams due to  the shortage of competitors who are at par with its success. It's time it's held responsible for the same.
A possible solution to this could be encouraging more ventures in the food-tech industry and supporting the already existing startups in the market. The Government of India is quite vocally supportive of young entrepreneurs and has started putting in efforts towards the development of the Indian startup ecosystem, although their support is still a long way away from the food-tech industry. The government should support the lesser established companies of the industry in the areas where they lack, to become identical opponents to Zomato.
It is also time Zomato bridges the gap of effective communication between itself and its customers. Being a company that caters to lakhs of people everyday, introducing a proper customer helpline service which does not involve chatting with an incapable robot and writing emails to their executives, is necessary. Having a proper customer helpline number, where the aggrieved can immediately contact a customer service personnel would not only save time, but will also cater to those who are not tech-savvy.