March 2021 will see Fashion Weeks come alive online. Paris Fashion Week had a groundbreaking movement, with a Black Barbie walking the runway. Paris Fashion Week began on March 1 and was on till  March 9, saw various live shows and their digital counterparts.
The latest designs showcased are representative of what designers believe in. And, are being touted as different, and unique. With street style no longer valid, the clothes showcases were more sustainable than ever. And, causes are being given more importance than ever. 
One such designer's belief in a cause resulted in a Black Barbie walking the runway. London-based designer Richard Quinn unveiled a design earlier this year. Even though the patterns were particularly stellar; the fact that a Black Barbie modelled the outfit, stood out.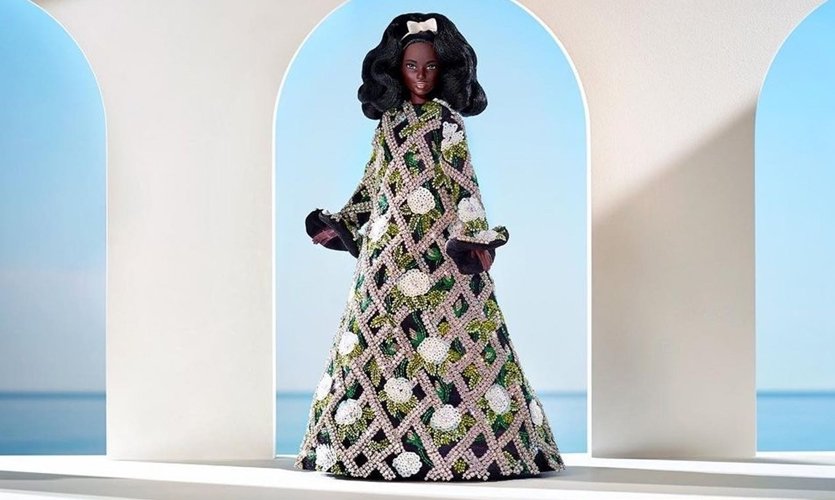 The Barbie sported an embroidered, hand-crafted green number with the signature Quinn retro-hair. The whole outfit took around ten days to draft, two days to make, and eight days to embroider. The white rose-embellished dress looked both resplendent and presented to the audience the classic, Quinn couture elegance meets funky colours.
Why Choose Black Barbie To Model?
The British designer shared the pictures and the news of a Barbie collaboration on social media. As per Barbie's Instagram, "If we were able to show this season, Barbie would be our woman of choice to open the show. She stands for inclusivity and beauty in all forms and embodies the Richard Quinn brand."
Barbie cannot be described in better words. She stands for equality and inclusivity and is a much-needed idol for young girls to follow. It's no surprise that the fashion world, much like every other place on this earth, suffers from the racist flu. While we do see Black models walk the runway, the comparative ratio is a sad statistic.
Inclusivity In Fashion
Not hiring black models is just one of the many ways racial prejudice exists in the industry. Stories of how often make-up artists are not prepared for dressing up a black model are rife in fashion circles. Starting from people of colour modelling 'ethnic' clothes only to creating designs that are 'exclusive', countless ways of racist labels are prevalent. Ergo, a big name in the industry using a black Barbie to represent the brand is truly transformative in nature. Talking to Vogue about his decision to hire Barbie, Quinn admitted that he never really was a Barbie person. However, "the diverse range of skin tones and body shapes were so refreshing to see."
From the point of view of a person of color, this inclusion is indeed refreshing. To be able to witness a female black person featured and honored on a platform like the Paris Fashion week, qualifies as a celebratory moment. Granted, there are organisations like The Black in Fashion Council, the much-needed shift in the industry is magnanimously slow. In 2020, The Black in Fashion Council was launched in the wake of the Black Lives Matter protests. While this is something that should have happened a long time ago.
Read more about how fashion has changed in politics.
As an organisation, the BIFC aims at targeting the problem at the roots. Starting from the hiring process to the revision of policies, they do it all. In their own words, "As an industry, we cannot continue to claim that we are progressive if we are not working to force diversity and inclusion in corporate structures while rectifying systemically racist policies that have permeated our industry for hundreds of years." Note the phrase hundreds of years. It's a long time to wait for diversity in an industry that caters to literally every single person across the globe.
Black Barbie traveling to various fashion shows comes as a piece of exhilarating news. In a movement so new and creative, Richard Quinn has already won over millions of hearts. His Barbie embodies strength, confidence, and, most importantly, hope.