Bollywood actor Ranveer Singh was summoned by the Mumbai Police on August 22, to record a statement related to the FIR lodged against him. The complaint against him was filed to charge him for posting pictures from his nude photoshoot for the Paper Magazine, on his Instagram account. Singh was eventually granted an extension till August 30. Undoubtedly, the Indian media and society went gaga over the incident.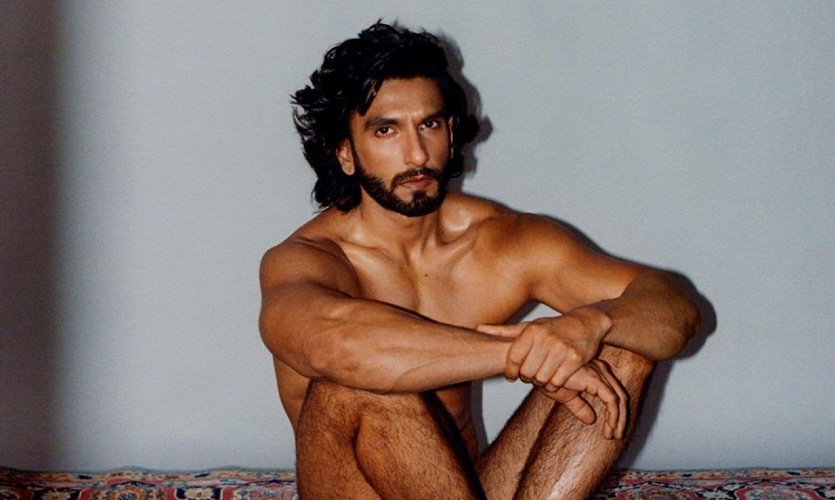 The actor was accused of "crossing all limits" by posting "obscene" pictures on social media, and apparently disrupting traditional Indian culture and norms. Whether what the Bollywood actor did was offensive has been a topic of constant debate across social media and prime-time news television. A series of grave and heinous incidents occurred during the meantime, which have been overshadowed by another cancel culture scapegoat.
News That Matters 
August, 23, 2022, Jharkhand:
A 16-year-old girl in Jharkhand's Dumka city died of severe burns after she was set ablaze by her stalker while she was sleeping. The victim, a class 12 student, was sleeping in her room when the accused 23-year-old Shahrukh Hussain allegedly poured petrol on her and lit her body with a matchstick for turning down his advances.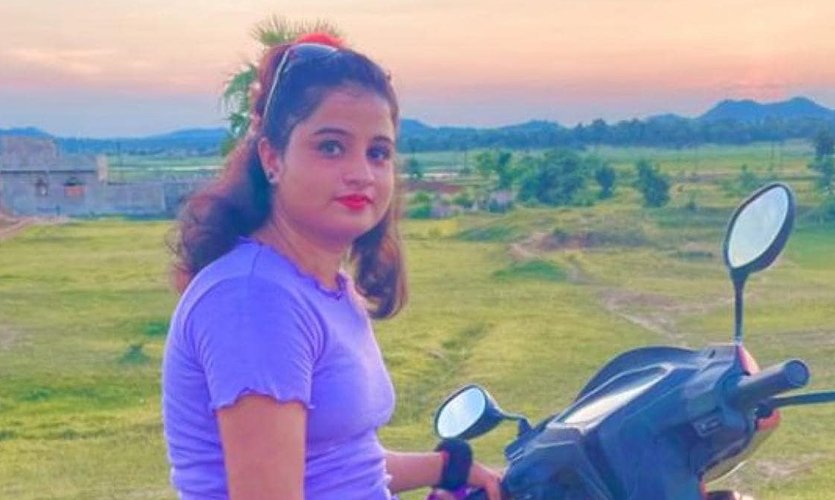 The girl was immediately rushed to a nearby hospital where she succumbed to her injuries five days later. Reportedly, her whole body, apart from the face, had suffered severe burns, and she struggled to speak while giving her statement. She informed the police:
"I informed my father about the threat after which he assured me that he would talk to the man's family on Tuesday. After having our dinner we went to sleep. I was sleeping in another room. On Tuesday morning, I experienced a sensation of pain on my back and could smell something burning. I found him running away when I opened my eyes. I started screaming in pain and went to my father's room. My parents doused the fire and took me to the hospital."
The police took Shahrukh Hussain and his alleged accomplice Naeem alias Chhotu Khan into custody. Visuals of them being escorted by the police show Shahrukh Hussain smiling towards the cameras, displaying how he has no contrition for his crime.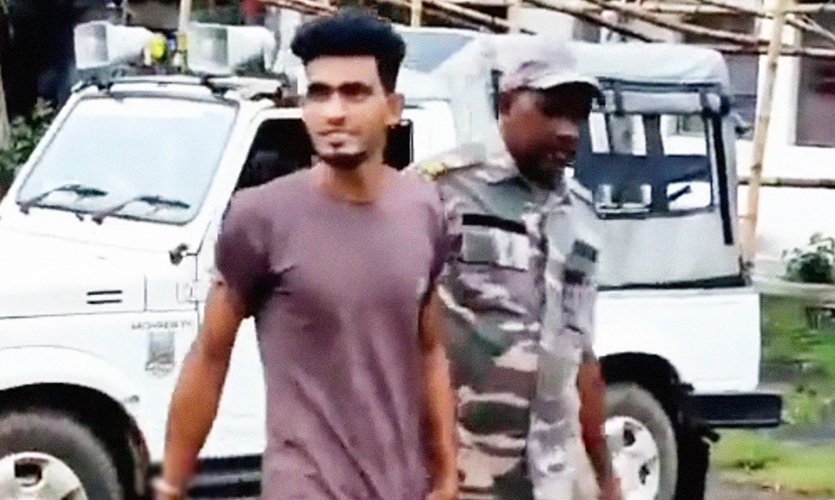 August, 28, 2022, Pakistan:
An 8-year-old Hindu girl living in the Umarkot region of Sindh province in Pakistan was rushed to the hospital in a grave condition after she was brutally gangraped. According to the mother of the victim, the girl had gone to a local shop but did not return for a long time.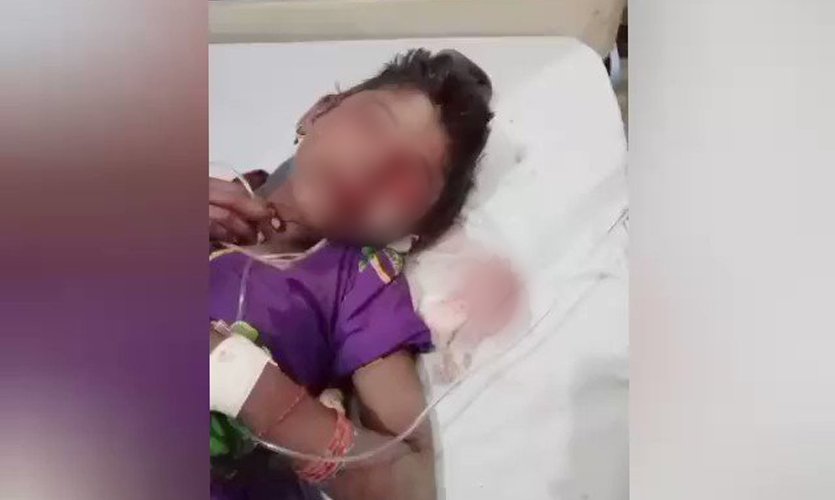 Umarkot Police found the victim hours later and rushed her to a civil hospital. The girl's entire face was badly scratched, and her eyes were gouged out by the suspects, who are still absconding. The incident came to light only after a Hindu rights activist in Pakistan posted a video on Twitter, which showed the victim being rushed for treatment on a stretcher. "She has been continuously bleeding from her genitals… the doctors in the local emergency hospital have referred her into BIDS hospital where a gynaecologist will examine her condition because she is continuously bleeding," says a woman accompanying the victim's family, in the video. She added:
"The rapists have literally scratched her entire face and have also gouged her eyes, just looking at her once is enough to give anybody chills down their spine… Anybody can see the condition of this girl. This is not the only case… thousands of incidents like this happen every day but no action is taken whatsoever. Where should these people go? Government must answer."
August, 28, 2022, Mumbai:
Three workers of the Raj Thakeray-led Maharashtra Navnirman Sena (MNS) assaulted a 60-year-old elderly woman in Mumbai, in broad daylight. The MNS workers were allegedly putting up bamboo poles in front of the woman's shop to hang posters welcoming people to visit the local Ganpati mandal, without her consent. Prakash Devi, a chemist shop owner in the 8th lane of Kamathipura neighbourhood objected to the installation, following which the men started slapping her.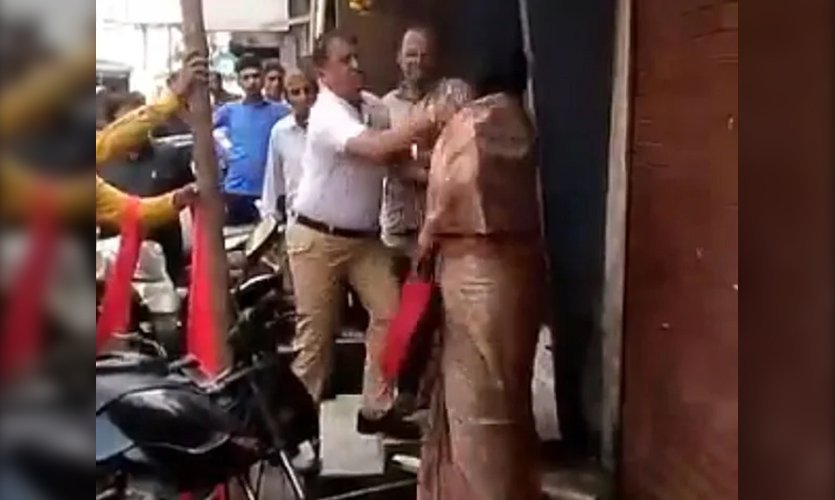 The incident came to light after a video of the same went viral across social media platforms. MNS deputy division chief Vinod Argile can be seen slapping Prakash Devi in the video and getting into a heated argument with her. Argile can also be seen pushing her and causing her to fall even as passers-by tried to control the heated situation. "They slapped me and hit me… They wanted to install a banner outside my shop, but I declined and told them to install it somewhere else, so they hit me… no woman should go through this," said Prakash Devi to the media. 
The accused, Vinod Argile, Ragu Argile and Satish Lad, as identified by the Mumbai Police, have been arrested, and a case has been registered against them under sections 34, 323, 336, 355 and 509 of the Indian Penal Code, and section 7 (1a) of the Criminal Law Amendment Act, 1932. The MNS also sacked Vinod Argile and issued an apology for the incident.
August, 29, 2022, Delhi:
The National Crime Records Bureau (NCRB) recently released its 2021 report, which marked the national capital as the most unsafe metropolitan city for women to live in. As per the report, there was a 40 percent increase in crimes inflicted upon women between the years 2020 (9,782) and 2021 (13,892). The report stated that in 2021, two women were raped every day in Delhi. 
The report also mentioned that Delhi has recorded the highest number of crimes against women in other categories – 4,674 cases of cruelty and domestic abuse by husbands, 3,948 cases of kidnapping, and 833 cases of minor girl rapes.
Out of the total 43,414 cases of crimes against women in 19 metropolitan cities accounted for in the report, Mumbai was next in line with 5,543 such cases (12.76 percent), followed by Bengaluru with 3,127 instances (7.2 percent).
August, 29, 2022, Uttar Pradesh:
A police inspector in Kannauj district of Uttar Pradesh was arrested for allegedly raping the mother of a 17-year-old rape victim at his residential quarters. Anup Kumar Maurya, the accused, was in-charge of the victim's daughter's rape case. In the FIR filed by the mother, she stated that the inspector called her to a petrol pump and then led her to his residence, under the pretext of signing some documents, following which he raped her.
The inspector was immediately suspended from duty and a preliminary investigation into the incident led by Circle Officer (Sardar) Shiv Pratap Singh found him guilty of the charges. "Prima facie, the charges of the victim have been found true. The inspector has been suspended and arrested on rape charges. He was produced before the court and sent to jail," stated Kannauj SP Kunwar Anupan Singh.
Where Does The Responsibility Lie? 
Ranveer Singh's nude photoshoot case is receiving more coverage than it deserves. With media outlets and news channels unnecessarily sensationalising the issue, incidents that actually matter are not being talked about enough. Let's be honest, Ranveer Singh sharing pictures of his nude photoshoot, voluntarily, is not a national issue. It is a baseless and futile pursuit. While the validity of it is a whole different topic, the incident is definitely not what news channels should be debating about on television, when there are more serious things that should take precedence.
For instance, how toxic and fragile can male ego be, that an innocent 16-year-old fell victim to it? When asked about several such incidents happening in Jharkhand, CM Hemant Soren said, "Incidents keep happening." Isn't it high time Pakistan is sanctioned for its brutal treatment of minorities? How are our political leaders feeling audacious enough to assault the common citizens of India for petty issues? How has India's judicial system failed to provide justice to rape victims, with lakhs of rape cases still pending conviction? Can even the protectors of the law not be trusted enough to keep us safe? These are subjects that need to be projected as national issues. 
The fundamental principles of media ethics dictate that news coverage should be impartial, unbiased, and balanced. Given the series of events that have taken place in the last few days, and the observations made from them, it is evident that a larger part of the Indian media is unethical in its practice as it accords more importance to petty issues than reporting incidents that affect us as a society.
The audience always remembers sensationalised content, and it is heartbreaking to think that it's just a matter of a few days when people will forget the above mentioned cases. However, months later, they will still remember that Ranveer Singh posted nude photos on his Instagram page willingly, and was charged by the police for it. This shows nothing but how hypocritical our society is, and how this hypocrisy is being mirrored by the media and overshadowing things that the public should really be talking about. If this is where the "people of tomorrow" are headed, then tomorrow seems terrifyingly dark.
Read more: Does Rajasthan Remain A Failed State In Tackling Dowry?