Sipping Laal Chaa (Red tea as it's called in Bengal) on my bed and listening to Vividh Bharati radio, I gazed through the window and watched trains passing by on the South-Eastern Railway route.
It's a cold morning, the sun is yet to emerge. Kaku had already left with the Phoddho (list of ingredients) to the Robibar Haat (Sunday Weekly Market) at Bolorampur.
I keep myself buried under the pillow for a while though. But soon it is time to help my aunty in the kitchen for the Sunday afternoon feast. Today aunty will be making Kosha Mangsho aka Bengali Mutton Curry for lunch, an all time favourite.
Kosha Mangsho, when made, brings a dose of nostalgia with it for every Bengali. After all, for any Bengali, a bowl of piping hot and aromatic kosha is like time travel to a time when one would often wake up to the aroma of fried onions and ground spices floating through the house. Taste buds will automatically start watering at the thought of it.
Mangsho stands for mutton and Kosha means something braised with ground and whole spices for a long time. It involves slowly cooking a gravy over low flame for a very long time to get a rich, dark-brown gravy and melt-in-the-mouth chunks of mutton. This Bengali classic semi gravy is cooked on special occasions since it requires a lot of time and patience. The patience required to turn the dish into a feast is well known, given that it is one mutton dish that needs gradual building of texture and taste.Needless to say, the recipe varies from family to family. Some use tomatoes in the gravy while some use Tok Doi (plain curd).
Read More: Kozhikode – The Food Capital Of Kerala Beckons You
The origin of Kosha Mangsho is not very clear but there's one place in Kolkata that is famous for this particular delicacy- Golbari (The round house) situated at Shyam Bazar crossroads. This place is over 95-years old and locals often say that Kosha Mangsho originated here. The Kosha Mangsho served here is the spiciest and certainly not for the weak-hearted. A compulsory visit to this place is always there on my list whenever I visit Kolkata.
It was not the Magshor Jhol (watery mutton curry with potatoes) for lunch but the delectable Kosha Mangsho preparations going on in full swing in the kitchen when I stepped in. Kakima (Aunty) was busy grinding the masalas on the Sil Nora (manual stone grinder) and the aroma of the spices was completely unparallel. I prefer using freshly ground masala and slow cooking. It is all about extracting the flavours like the sweetness from the onions. Usually, good quality meat has enough moisture to cook well and brown the onion. Onion is the base of the dish. One needs consistency in dicing the onion and patience to see it turn brown, slowly. Once it's done, and the oil starts separating the masala, it is a good enough base to cook the meat till it falls off the bone on a tug. I accompanied my aunty in the kitchen and sat with a huge basket of onions to be sliced.
The process might look strenuous but worth the result. Colour is another important factor in the Kosha Mangsho. The dark brown colour of the curry has a unique process to it which is mostly done in Bengali kitchens to get the perfect colour in gravies. It comprises caramelising the sugar in oil just before frying the onions. The dark fried onions combined with the Kosha Mangsho and spice mix of nutmeg, mace, cinnamon, clove, and black cardamom fuse its magic like nothing else. One can sense the perfect curry with the colour and the aroma, which changes immediately.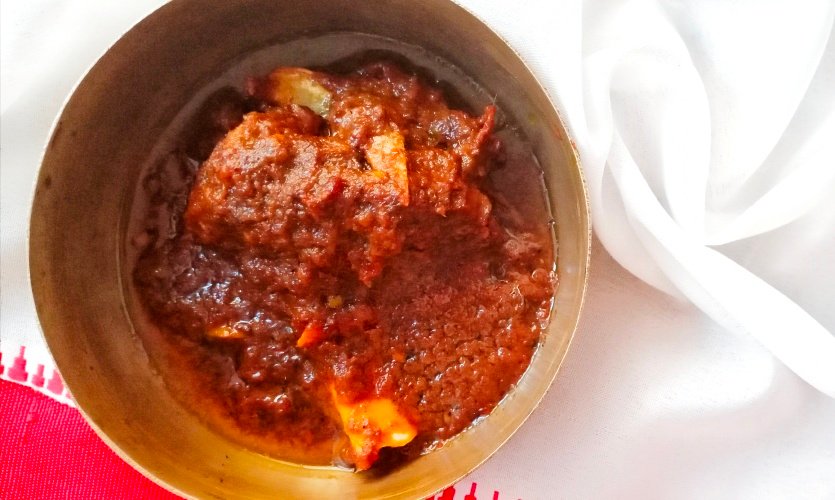 It takes almost 90 minutes to prepare this dish. The cooking time also depends on the tenderness of mutton pieces to get the right colour and texture.
The uniqueness of this dish is that it can do with different staples at different times. At lunch, it's served strictly with rice. It can be simple steamed rice or even Basanti polao (Yellow fragrant rice). The same Kosha Mangsho is served for dinner on the same night with Trikona Porota (Triangular Paratha) made of maida or Sadaluch i(White pooris made of maida). In my family the Sada Ruti (White maida roti) is the only choice.
It's a dish I treasure so here is the recipe for you to try.
Kosha Mangsho Recipe
Ingredients for marination
Mutton- 1 kg (medium-sized pieces with bone)
Thick yoghurt- 2 tbsp
Turmeric powder- ½ tsp
Ginger paste- 2 tbsp
Garlic paste- 2 tbsp
Mustard oil- 2 tsp
Raw papaya- ¼ cup (grated)
Ingredients for tempering
Whole dry red chilli- 2
Black cardamom- 2 (lightly crushed)
Green cardamom- 3 (lightly crushed)
Cloves-3
Cinnamon- 1" (3 pieces)
Ingredients for cooking
Onion- 5 medium-sized (thinly sliced)
Cumin powder- 2 tbsp
Green chillies- 7-8 slit (adjust as per your tolerance)
Sugar- ¼ tsp
2 tbsp yogurt
Gawa Ghee (Special variant of cow ghee from Bengal)
Bengali Garam Masala
Red chilli powder/Kashmiri Mirch powder- ½ tsp
4-5 cups hot water
Method
Marinate the mutton pieces with all the ingredients mentioned for marinating the Mutton. Keep aside for 3-4 hours.
Heat oil in a kadhai. (Preferably iron kadhai)
Temper with all the ingredients mentioned for tempering.
Now add sliced onions, and fry over medium heat until brown. Add ginger-garlic paste, mix and sauté for a few seconds.
Keep frying the onions until they turn dark brown.
Next, add Cumin powder, mix and fry for a few seconds again.
Add yoghurt.
Braise till oil separates.
Now add marinated mutton into this.
Keep the flame high for 5 mins and keep stirring so that the extra moisture evaporates.
Mix and cook over medium heat for 20 minutes uncovered on medium heat. Keep stirring in between to prevent burning from the bottom of the pan.
The mutton will start to change its colour. It will turn darker and this happens due to the iron kadhai only.
At this point add salt according to taste.
After cooking the first 20 minutes uncovered, add 3/4 cup of hot water to the mutton. Mix well, cover and cook over low heat and cook.
Repeat the process 7-8 times to cook thoroughly.
Check the colour as it turns brown and darker.
Add a big spoon of Gawa Ghee.
When the mutton pieces are fully done, check the salt, and adjust if needed. Add sugar and Bengali Garam Masala and mix well. Remove from the heat. The gravy of this Mutton Curry should be thick; a bit dryish, that is the word Kosha stands for.