This coastal town will entice you with love and taste.
A long ten hour drive from the state capital Trivandrum to Kozhikode (Calicut) in the north of the state is not only thrilling but also beautiful as the road is built along the coast and one gets a great view of the ocean as one drives through it.
Kerala, often called God's own country is famous for many things like it's beaches, tourism, spices, dances and also films but the food in Kerala one must experience. It is distinct, varied and oh so tasty.
But even in Kerala, Kozhikode has the privilege of being called the food capital of the state n Kerala. So we will explore what's so special about this place and it's food.
It would be pertinent to say that one or two days are not enough to explore the delicious varieties of snacks and main courses that Kerala's Malabar region (consisting of Calicut and its neighbouring districts of Malappuram and Kannur) has to offer.  Though the whole area is a food connoisseur's dream come true but we will explore the coastal Kozhikodan dishes which naturally includes a lot of sea food being as it is located along the coast.
Once in Calicut , turn your wheels to the beach where the long stretches of  breezy, sandy beaches, whispering waves, kids, friends, lovers, couples, families and visitors keep the place brimming with activities from dawn to midnight.  One can spot a number of tiny food stalls on wheels all over the beach selling tea and snacks.  And one can see jars of salted gooseberries, carrots, raw mangos, pine apples, etc which can take one back to those nostalgic childhood days.
Apart from authentic Kozhikoden dishes one can also find Mughal, Hyderabadi, Chettinadan, Arabian, and Italian cuisines in this foodies paradise.  Let's start with a tea stall.  Sulaimani tea (sugared black tea with slices of lemon) is a speciality of Kozhikode.  It's customary here to serve Sulaimani tea after a heavy non-vegetarian meal of chicken, mutton, fish or meat Biryani.  It helps the digestion process.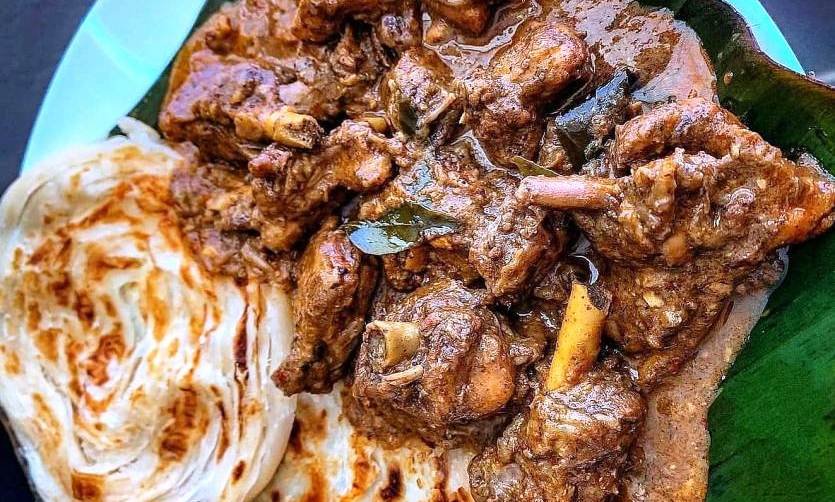 Though the tea stalls serve different types of teas but most prefer black tea to avoid excessive milk.  The tea stalls also sell many snacks like Banana fries, Bonda, Vada, Pathiri (Pathiri is a flattened rice roti which has numerous avatars. It can be fried or roasted on a flat tawa. It can be a snack or even the main course and it can be served plain or prepared with a stuffing of vegetables, fish, meat or eggs. There is even a film song about a woman who prepares different types of Pathiris to please her son-in-law when he comes to her home for a feast.  It's that essential for a Kozhikodan meal.
Malabar dishes commonly known as Moplah cuisine has a strong link to a bygone era when sea trade was flourishing here and Arab traders were frequenting Kerala ports.  Kozhikode was a world famous sea port where huge ships from Arabian countries, Portugal, Holland and other countries were a common sight. They came to trade in spices and timber, mainly.
Gradually foreign traders started marrying native girls, mainly from Muslim families also referred to as Moplah and they stayed back for months for trading purposes.  It is believed that mothers-in-law started experimenting with new dishes to tempt their rich sons-in-law here.  Thus the famous Moplah cuisine was born.
Read More: Experience The Vegetarian Summer Flavours Of Bengal
One famous dish is the Kozhikodan Dum Biryani. After all which Indian cuisine is complete without its own version of a biryani. This Kozhikodan Dum Biriyani is delicious and full of flavour.  One just can't resist the smell of a freshly opened handi of the biryani when the air floats through and your mouth starts watering immediately. Irresistible! Biriyani here is served with side dishes of salad, pickle and Chammanthi, a kind of dry coconut, onions and chillies chutney.
Beachside stalls, restaurants and hotels all serve their own versions of the biryani and each one has its own variations. One has to experience the hospitality of Kozhikode to see how welcoming it is.  Apart from the unique taste of their food, the people from Calicut show their love and warmth in the way they serve their guests. The Kozhikodians will urge you to take a few more bites and ensure that you have your most memorable experience here.
Being a coastal town, Kozhikode has a long list of seafoods to showcase.  A variety of fishes, clams, mussels are available here and they make a perfect combination with rice, roties, puttu and Pathiri. It might sound amazing but one can see beach stalls serving huge fishes on large banana leaves covering the whole table which can only be eaten by a big group of people. Don't miss trying out Kadukka Nirachuthu (stuffed mussels) which is a popular snack here.
A visit to a typical Muslim home In Kozhikode during the nombuthura (when the Muslims break their day-long fast in Ramzan) is something one must  experience. One will find tables filled with endless dishes of amazing food from starters to drinks, main courses and of course desserts.  Generally the womenfolk here are excellent cooks.  They prepare amazing dishes from simple ingredients.
Many communities with different places and with different food habits have settled in this coastal town mainly for trading. Later they merged with the locals.  Though Kozhikodan food is commonly known as Moplah cuisine, but one can find traces of different cuisines in Moplah cuisine. Gujarati, Parsi, Bora, Marathi, Tamil, Andhra influences added their own techniques and tastes to Kozhikodan dishes to make it that much more unique.  When once the focus was on capturing the hearts of Arab sons-in-law, now it's all about conquering the heart and taste buds of food lovers.