On the 72nd Republic Day, Pappammal received a Padma Shri for organic farming. Upon receiving the award, she says, "I don't know anything about agriculture. I have never had formal education but I have still come so ahead in life. Seeing my work and dedication, they have given this award."
Pappammal's Story
Pappammal is a proud woman farmer from Coimbatore district, Tamil Nadu pursuing organic farming. The 105-year-old farms pulses, millets, and vegetables in her 2.5 acre field. Being a grandmother, she has proved that age is just a number when you have passion and want to work.
One among the 10 personalities who were bestowed with the Padma Shri awards, Pappammal actively tends to her field in Thekkampatti, a village on the banks of river Bhavani.

Pappamal's story is one of struggle. Her parents died early and the responsibility of family fell on her shoulders. She along with her will and smartness, bought this land alone, where she currently farms. According to Pappammal, she had inherited a provision shop from her grandmother. She collected money by selling beverages and snacks. Using the money she earned, she purchased 10 acres of land to cultivate corn and pulses. After a few years, she sold this land, retaining only 2.5 acres for herself. Today, she farms on this land.  She wakes up at 3:00 am, starts her day with a short walk, cooks a nutritious breakfast of ragi and rice with chillies and onions. Then carries this meal in a mud pot to her fields.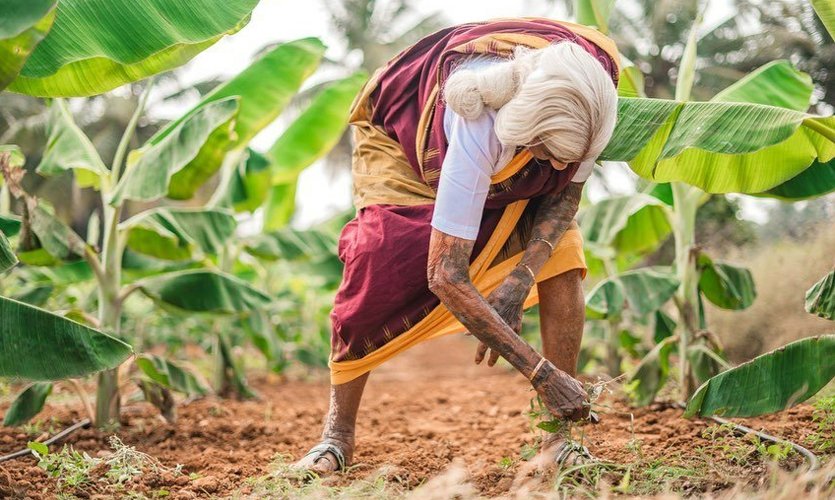 Women's Collective
Pappammal received a Padma Shri for her contribution towards the agriculture industry; and for organising women in agricultural extension programmes. She's an ardent organic farmer who is adapting modern technologies. The government honoured her with the Padma Shri for being a role model to other female farmers; and for her remarkable contribution in promoting women in agriculture. 
The Prime Minister shared images of the meeting with Pappammal on his Facebook and Instagram pages. "In Coimbatore earlier today, met the remarkable R. Pappammal Ji. She's been conferred the Padma Shri for exceptional work in agriculture and organic farming," the caption read.
Pappammal was also appreciated by cricketer VVS Laxman who tweeted, "Age is only a number. 105-year-old Pappammal is a legend in organic agriculture. She works at her field in Thekkampatti, TN, and cultivates millets, pulses & vegetables across 2.5 acres & runs a provision store & eatery. She has been honoured with the #PadmaShri award."
In honour of receiving the Padma Shri, Pappammal said, "I did everything on my own, with my own will. And today look at me, I have great grandchildren running around me. My life is very good. In my life, I am the king and the minister."
Read about this Delhi student whose project is helping kids with down syndrome.