The new prince of Bollywood, actor Ranveer Singh, famous for his memorable and ground-breaking roles, recently became the centre of mindless controversy.
This time, the reason behind the limelight was his photoshoot for the Paper Magazine. 
On July 22, the 37-year-old actor posted a series of seven images from his photoshoot with the New-York based magazine on his public Instagram account, where he can be seen posing naked, and in a black underwear. The shoot and the post turned heads, raised a few eyebrows, and garnered praise and love, amid a little criticism.
However, Ranveer felt the intensity of the disapproval on July 26,2022, when Mumbai Police filed an FIR against the actor, concerning obscenity, hurting women's sentiments, and insulting women's modesty through his photographs. The report was filed based on a written application by Advocate Vedika Chaubey and a complaint by a Mumbai-based NGO. The actor was called for questioning at the Chembur Police Station, where he reportedly spent more than two hours, cooperating with the police and giving a handwritten statement.
The issue has turned into a full-blown scandal, with repetitive debates clouding the audience's judgement both online and offline.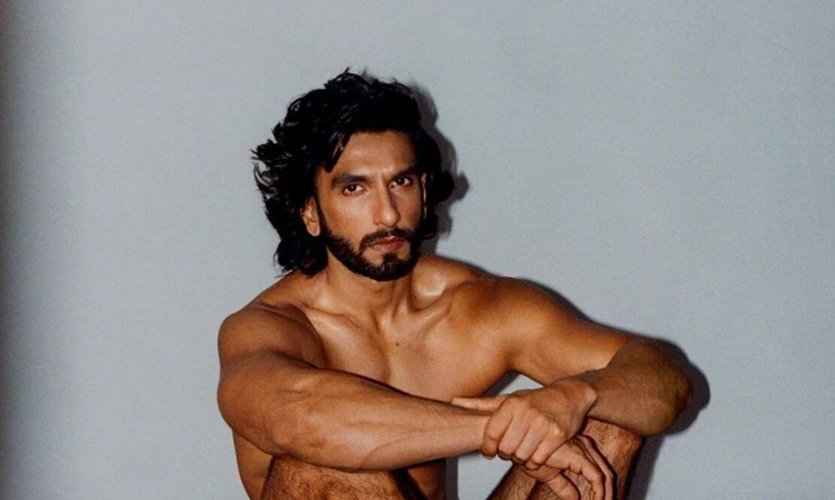 "The purpose of the photoshoot was to create art and not a sensation," said Kshitij Kankaria, creative director of the paper shoot. "I knew it's gonna be a big deal but I didn't know it's gonna be like a national news,'' he said in conversation with Brut India. And where is the lie? A sensuous photoshoot of a largely followed actor is meant to go viral; but for it to circulate in the news for months to follow, raises questions on the news value of Indian news agencies. There are plenty more important and grievous issues that need to receive coverage, over the unnecessary star drama which can be allowed a rest.
While the Bollywood film industry is suffering from an almost habitual and argumentatively petty boycott from the audience, it seems that the restriction on creative freedom is not limited to the big screen. Singh proudly shared a big moment with his fans through absolutely stunning pictures that came to life after many discussions with the creative director.
The shoot was inspired by ancient Roman art, specifically, the sculptures made by the renowned Italian artist Michelangelo, and also paid homage to the iconic photoshoot of legendary American actor Burt Reynolds. It is no surprise that Ranveer Singh rocked the look and wowed us with his Greek-god like poses.
An open minded person could truly admire the beauty and artistic imagination portrayed through the pictures. It was a courageous step in the direction of liberating limiting beliefs on the freedom of expression. In a free country like India, how can these outrageous FIRs be justified?
How can these illogical outrages be sustained and given publicity to? What was so offensive about these images that caused such a stir?
Sexual Freedom In Ancient India 
It is certain that the overly sensitive and orthodox mindset of Indians today does not follow the true teachings of our culture. Once upon a time our glorious country was considered the pioneer of sexual education and its practise.
It is evident from the many highly erotic historic artworks and literature that early Indians viewed sex and sexuality in a positive light, and celebrated sexual engagements joyously and freely. The exotically erotic carvings in many places of worship stand as historical proof of the sexually liberated India that we have now lost.
In many of these carvings, one can find various instances of sexual activity among same sex people, and also multiple people engaging in sexual acts. We can also find carvings depicting beastiality, and of people without clothes, to represent the truth of life – you come without any property, and die the same.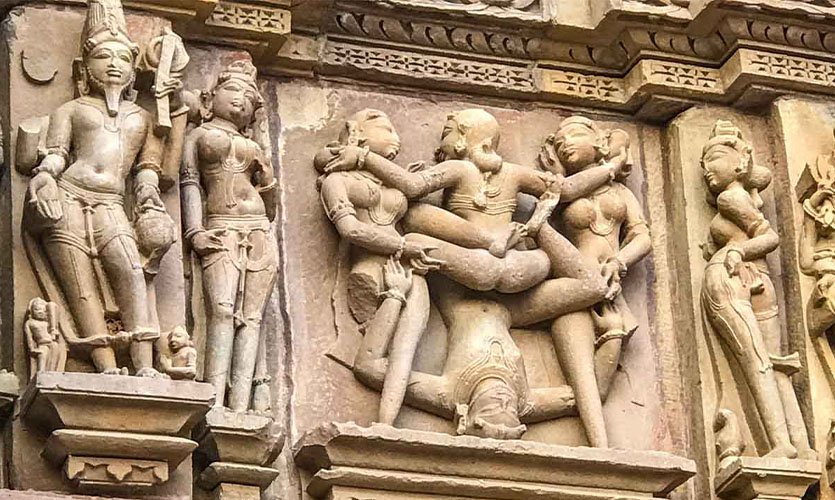 Ancient india has also produced a valuable erotic literary gift for the benefit of the world – the Kamasutra – written by the Indian philosopher Vatsyayana. The ancient Indian Sanskrit text on sexuality and eroticism is considered to be a guide to achieveing sexual pleasure, and is also known as the Bible of sex positions. It is widely considered a self-help book referred to by many sex therapists, and has inspired many researches and books.
In the past, Bharat Vasis, i.e., the people of Bharat, were accepting and tolerant. Today, the West celebrates and promotes sex positivity but we, the orignal pioneers, are stuck in their force-fed orthodox thinking. It is rather disappointing that we are ashamed of our primary nature, and have failed our ancestral way of life.
The Colonisation Of Our Land And Mind
We are living in the 21st century, but our mind is plagued by the occupation of foreign ideas as a result of years of invasions, and 200 years of colonisation, that has left the roots of India rotten. The spirit of India only remains in literary texts. Our laws, law-makers, and our public, is still  slave to a culture that is neither our own, nor of the West. 
The Mughals invaded northern India in the 13th century, and by the 16th century, they were able to unite the Indian subcontinent into one. They declared their practises as the correct way of life, and imposed the parda pratha (veiling), and strict separation of sexes. Talking about pleasure, especially that of a woman, became a hush-hush topic, and sex became a taboo topic catering to only child bearing. Polygamy was still all the rage, polyandry on the other hand, died with the golry of ancient India.
The Victorian colonisation period was much worse. Not only did the Britishers rob us of  our riches, they also stripped us of our identity. During the 200 years of their rule, they introduced many laws that stigmatised Indian sexual liberalism. The British saw Indians and their traditions as "barbaric", and against the Christian way of life. They criminalised homosexuality and trans existence, and propagated that sex was a sacred instrument which should only be used for procreation.
While they steadily stole knowledge from books like Kamasutra, translating our works into English for their convenience, they never backed down from imposing bans and laws on our bodies, like the infamous section 377 against homosexuality, in an attempt to "modernise" India.  
We have let our colonisers and the shahenshahs inflict their ideologies and religious teachings on our free minds, allowing their poisonous ideas to plague our society to the point where art cannot be appreciated, and is instead considered an act of vulgarity.
Sex Positivity Is Not Anyone's Monopoly
For years, the notion of sex and sexual expression in any form has been looked down upon. Even in movies, it was either shown in a negative light (assault), or shown using metaphors. Women's bodies have been regulated by the patriarchy for the longest time, and only recently have Indian women been able to reclaim their bodies. 
The feminist movement has provided women with the liberty to be able to demand equal rights and respect, irrespective of their lifestyle choices. One of the aspects regarding bodily autonomy is the freedom to choose how one wishes to dress. However, one of the complainants, Advocate Vedika Chaubey does not seem to be in support of a star's right to the same. Appearing on a NDTV debate, the lawyer openly showcased her offense at the images. Responding to anchor Nidhi Razdan's question about what she finds vulgar about Ranveer's "bum", the lawyer said, "Of course this is vulgar! We can see his bum! His video is with me. He is completely nude in that video."
Is The Outrage Justified?
If you are a person living in India, chances are you have encountered inappropriate half-naked men on the streets several times already. Unfortunately, it is a rather common sight. But we as a community are more interested in taking offense to an artistic representation.
In the past, Milind Soman, a seasoned model and actor has done nude photoshoots with other female models. He even marked his 55th birthday with a run on the beach fully naked, joyously sharing images both times on his Instagram, on an account open to public view.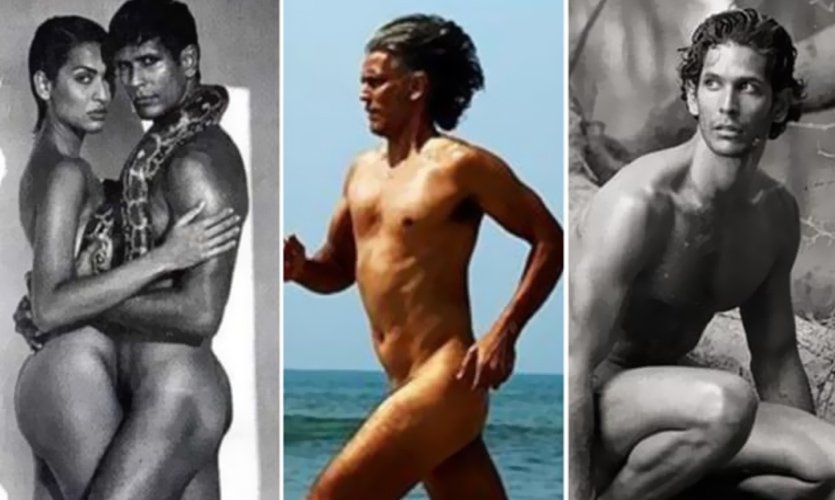 It is astonishing how Advocate Chaubey attempts to blame Ranveer's body for causing hurt to the sentiments of women, and insulting their modesty through his photographs, which are genuinely artistic. Is it unlike blaming girls for inviting rapists with the kind of clothes they wear?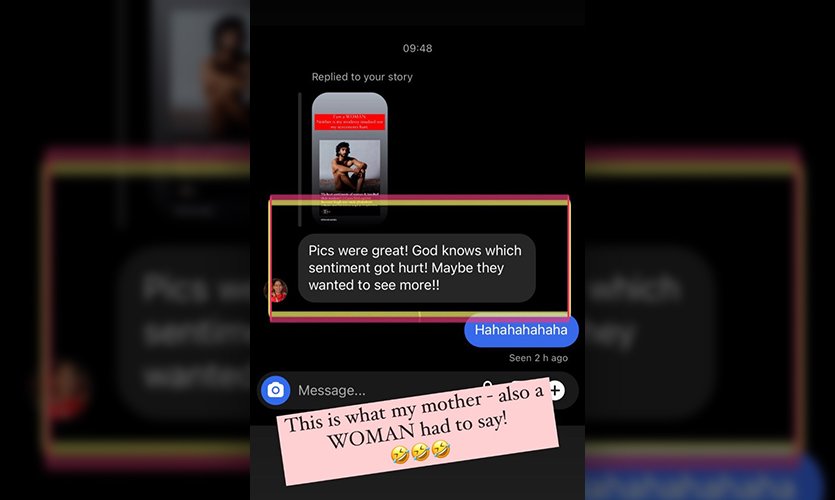 The lawyer rests the validity of her offence on the fact that she has two daughters, a mother and a sister, and that she can't view the images in the presence of her family. Why are we scared of another human body? Why can't we teach our children to respect another person's choices, and instead stand up for the genuinely wrong things promoted by our society? Moreover, all parents block adult content for their kids. Why hasn't the lawyer proposed to block all the free-flowing Instagram reels and pretentious videos instead? Why didn't she petition to block pornographic videos easily available on these platforms? In all sincerity, an FIR was hardly the correct route to showcase her personal disapproval.
Many are criticising the photoshoot because if a similar concept was done by a woman, it would not be appreciated by the society. But is blaming Ranveer for the society's deep seated sexism the right way to achieve equality?
We need better ways to communicate criticism towards art, while maintaining respectful boundaries as an audience. Although many are reacting positively to the pictures, and are supporting Ranveer through the scandal, a good lot are blissfully ignorant in following the herd which is critiquing the images for being 'morally corrupt'. 
The question remains, whose morals are these images really corrupting?
Read more: A Look Back Into The History Of The LGBTQ+ Liberation Movement