Over the years, there have been dozens of "powerful" write-ups, op-ed, news reports, movies, and books on Dalit oppression. People of India, especially from the upper castes, are kind of hard-heartened about them.
We have several cases of oppression against the Dalits and Bahujan communities'. Yet there's a painful silence towards the entire narrative no matter how loud they seem.
Another such attempt is writer and director Chaitanya Tamhane in his directorial debut film – Court.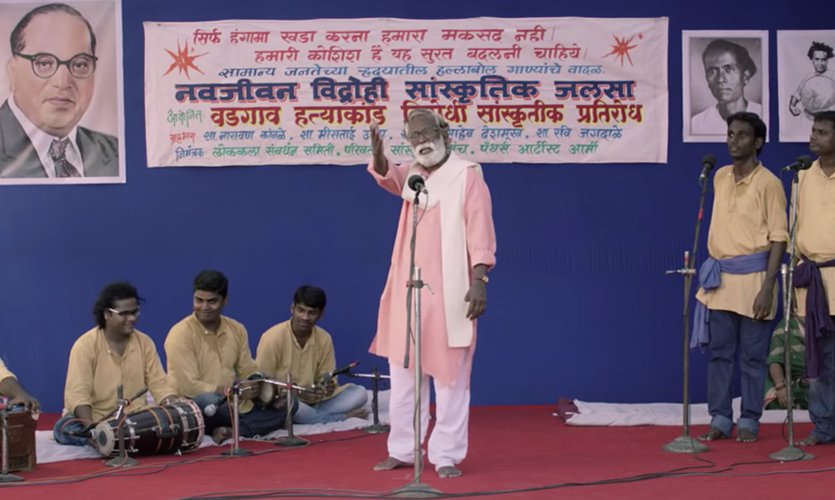 Cinema At Its Best
This Marathi feature film shows us the life of 65-year-old white-bearded Narayan Kamble, a folk singer and a Dalit. Played by Vira Sathidar, Kamble in this film is accused of "encouraging" a manhole worker to commit suicide via his folk song performances. It follows the trial at the Mumbai Sessions Court and a very lazy sequence of hearings and rulings. An interesting element in this 116-minute movie is the slow camera work. It showcases every minor to major factor that constantly takes place in the judiciary; and unfortunately, in the lives of Dalits.
Thirty-three-year-old Tamhane, without pushing too hard, pointed out the faults in the existing Indian judiciary system.
Other vital characters include the Defendant, Prosecutor and the Judge played by Vivek Gomber, Geetanjali Kulkarni and Pradeep Joshi, respectively. The defendant who goes by the name Vinay Vora is a Gujarati lawyer who speaks only in English while living in Mumbai (a Marathi dominated city). And hence, is an outcast. Vora is from an upper-caste family. But, is persistent in fighting for the oppressed communities and their people.
On the other end is the court-appointed prosecutor, Nutan. She is seen juggling between her personal life as a wife and mother; and someone who longs for a promotion at work. Nutan is like a well-trained parrot constantly singing what is written in the book of the law. While Vora sees things out of the book, understanding the circumstances of the accused, Nutan deems them differently.
Now comes judge Sadavarte, who needs everything "fast". In a ridiculous situation, Sadavarte is seen refusing a case just because the plaintiff is wearing a sleeveless top. Moreover, the judge is seen constantly pushing the dates one after another as if it's no one's business. 
Irrespective of all these prime characters, Tamhane brings the wife of a "real" manhole worker. She is portrayed as the wife of the deceased in the film – Usha Bane. The non-professional actor talks unambiguously about the situation her husband was in (both in the film and real-life).
Lack of safety gear to protect from toxic gases, insufficient manpower and money are only a few problems these scavengers suffer from. Furthermore, she added about the deceased's drinking habits that were formed in order to "keep at" work every day.
The heart-wrenching point was the "cockroach method". As per Bane, to order to determine whether the air inside the manhole was "too toxic", the workers checked out on the roaches inside. If the roaches are crawling or walking fine – it means the workers are safe to enter for work and cleaning.
Highlighting Oppression
The movie, seemingly, echoed through the well-played and well-used characters. However, every shot was a little lengthy, unmoved than usual. It allowed the audience to consume, realize, grasp, and flinch over the situation. And the credit simply goes to the cinematographer Mrinal Desai for her static takes.
Tamhane started off with a reflection on the lives of Dalit. And, by taking the same wavelength conducted a paradigm shift towards sanitation workers and ended up again at Dalit lives.
The Real Life Scavengers
As per recent reports, 110 manhole deaths were reported in 18 states in the year 2019 across the country. The irony here is workers entering manholes or manual scavenging is actually illegal in India since 2013. As per the Prohibition of Employment as Manual Scavengers and Their Rehabilitation Act, the process should be entirely mechanised considering the dangers of the sewer environment.
However, there are dozens of loopholes in this law. In order to save costs, contractors use the backward communities to clean the sewers without documenting anything on paper.
In recent years, reports suggest that post 2019 budget there have been changes in this situation. Indian Finance Minister Nirmala Sitharaman in her new budget announced the extension of a government play in which banks facilitate loads to women and people from marginalized communities to buy manual scavenging machines and robots. According to her, this "mechanised cleaning could save the manual scavengers their dignity". 
Dalit Lives
The Court was released in the year 2015 i.e., a year before Rohith Vemula, a Ph.D. student from the University of Hyderabad committed suicide. The alleged cause is caste-based discrimination. Rohith, a Dalit student, was suspended along with four others after a complaint by the local unit of Akhil Bharatatity Vidyarthi Parishad (ABVP), the student wing of the BJP. Unable to manage his daily expenses, Rohith protested in front of the university.
On January 17, 2016, Rohith committed suicide leaving a searing note behind. "My birth is my fatal accident," Rohith wrote in his note. He was allegedly identified as a Dalit and was advocating for Dalit rights. Due to suspension, and thereby pause on his fellowship, Rohith had dues. "If you, who is reading this letter can do anything for me, I have to get 7 months of my fellowship, one lakh, and seventy-five thousand rupees. Please see to it that my family is paid that. I have to give some 40 thousand to Ramji. He never asked them back but please pay him from that," Rohit added in the note while apologising to his loved ones for his act. Till date, nobody has been held accountable for his death.
Fighting for Dalit rights is not a 21st century act. Forty-five years ago there was a group of people who founded the 'Dalit Panthers' movement in Mumbai was working towards Dalit rights. The party didn't last but even today, the need for such a party remains.
Court is both: reality and an attack on India's outmoded justice system especially in the context of Dalit lives. Tamhane could have easily blended the movie into another Bollywood flick with heroes and saviors as the frontline but the harsh realities plus quiet outburst set both the film and the director apart.
Read about this Tamil short film that focuses on issues like body shamming.