In July 2020, the National Highway Authority of India (NHAI) completed the construction of a stretch of 270 km of Jammu-Srinagar National Highway (the northernmost segment of NH 44), using the plastic and polythene waste materials dumped in the landfills/godowns of the State Pollution Control Board (SPCB).
For this purpose, plastic was mixed with bitumen and used to lay roads, which was part of a pilot project. The concept of plastic roads has emerged to counteract the harmful implications of plastic waste on the fragile environment.   
This pioneering concept revolves around the usage of post-consumer plastic products, like product packaging which chiefly includes components polyethene terephthalate (PET or PETE) and polypropylene (PP). "The plastic is first shredded into smaller pieces which are then melted around 170° C after making sure it is free from impurities and well dried", says Rajapgopal Vasudevan, professor at Thiagarajar College of Engineering, Madurai, also known as "The Plastic Man of India". "We then add molten bitumen to the molten plastic and lay the roads". Vasudevan is the one who brought the concept of 'plastic roads' to India after 40 years of research on the reuse of plastic waste.
In India, this concept has been promoted and utilised by a company named KK Plastic Waste Management Ltd., in Bangalore. The company, set up by K. Rasool Khan, introduced a material known as 'polybend', a polymeric material made out of plastic waste to construct roads.
With the efforts of Khan, the company has been constructing plastic roads and promoting this idea for the past 15 years. "In India, the percentage of rural roads to total rural road length is about 65 per cent (approx). Also, the costs involved in making asphalt roads are much higher. Hence, plastic roads provide an economical and healthier alternative to this", says Vasudevan.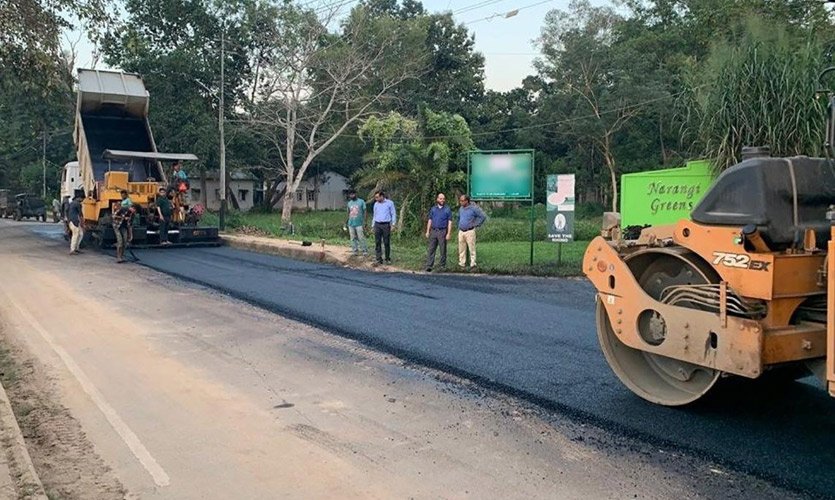 In India, nearly 10,000 tonnes of plastic waste remains uncollected and about 26,000 tonnes is dumped in landfills. This amount can be drastically reduced by the concept of plastic waste as a kilometre requires about 1 tonne of plastic to be built. "Using plastic waste to road constructions is an excellent idea, but we should not overlook the fact the plastic can enter back into the environment in the form of minute particles, once the road starts to wear out", says Ishan Saxena, Chemical Engineer at Arofine Polymers Ltd. However, the number of carbon emissions can be reduced by using this idea — a fact even the Indian government has accepted. 
Also, the construction costs of urban roads which range up to one crore for one kilometre (depending upon the number of lanes) can be reduced to half, saving around Rs. 30,000 per kilometre of road built. By using such techniques, the overall plastic menace can be controlled to a manageable level and constructing a road even in the most remote areas could be made possible, owing to the lesser investments. "Don't doubt the safety of these roads, they're as sturdy and safe as the asphalt ones", chuckles Vasudevan.