We all have that inner adventurer who loves exploring every nook and cranny of the town on a two-wheeler. However, you better have your helmet on.
According to a 2019 report published by the Ministry of Road Transport and Highways, 1.5 lakh people were killed in road accidents out of 4.9 lakhs. And, out of this nearly 30 per cent of the deaths were caused because of not wearing helmets. To solve this issue, Himanshu Garg, an engineering prodigy from Agra has come up with the concept of the SMART Helmet.
"I lost my mother to a road accident in 2014 as she was not wearing a helmet while riding her scooter. After I recovered from the trauma of losing her, I came up with the idea of SMART Helmet", mentions Himanshu about his innovation. 
This idea promotes wearing a helmet quite uniquely. Simply put, your vehicle won't even start if you don't wear this helmet.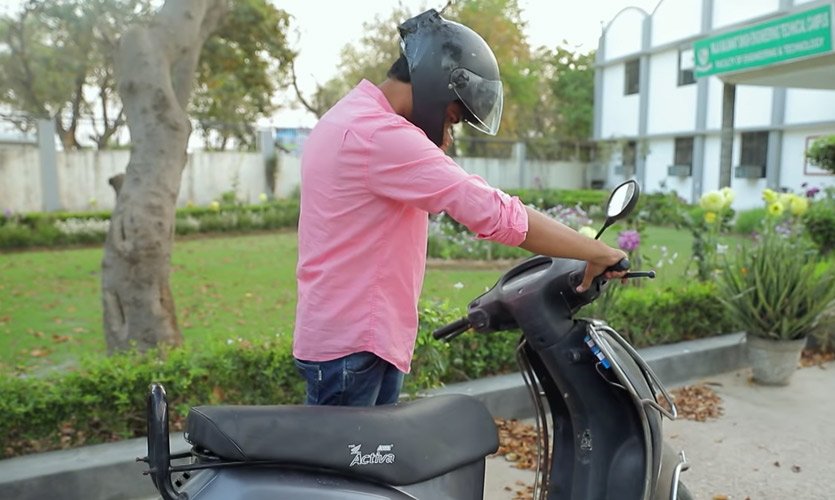 This concept requires you to wear the SMART helmet if you want your two-wheeler's engine to start. "Its workings are similar to that of remote control cars", says Garg. The helmet has been installed with a transmitter and a sensor. The sensor detects your pulse once you wear it, which is then transmitted to the vehicle via a transmitter. "These signals are then detected by another sensor installed in your vehicle. Once these signals are received, you can start your vehicle", explains Garg. This idea has been supported by organisations from all over the world and Garg has also received a special grant from the Uttar Pradesh Government. 
Talking about this innovation, Mukesh Shukla, section officer at the Ministry of Road Transport and Highways mentions, "Nearly 60% of deaths in road accidents are caused because people don't wear helmets. This idea can become a lifesaver". In India, one of the most common reasons for not wearing a helmet is the fashion quotient. "Imposing fines for not wearing a helmet cannot save you from road accidents. Mostly the age segment of 18-27 are the ones who avoid wearing one, owing to their careless and liberal attitude", adds Shukla. 
Wearing a helmet should be a lifestyle of the riders rather than being a forceful or mandatory imposition from the concerned authorities. "The comical part is that people wear helmets out of the fear of getting caught by the traffic police and not the fear of breaking their jaws if they fall", sums up Shukla.