Increasingly, naturally healthy snack brands are making an appearance. India's health and wellness foods market has seen a boom and has interesting snacks on offer. Ragi chips, jowar bites, millet pancake mixes, keto-friendly cookies and whatnot have taken over supermarket shelves. 
The Indian health and wellness sector may not have seen a sudden boom, but gradually the market has opened up. And, the retail market for this sector is opening up too. As per Statista.com, in 2018, the retail value of the naturally healthy food market in India amounted to 3.8 billion U.S. Dollars approximately. It is expected to reach 8.5 billion U.S. Dollars by 2023. 
Change In Consumer Mindset

As per a Nielsen report, 'India Acquires A Taste For Health & Wellness', India's health and wellness foods market is an Rs. 10,352 crore market. It also has a growth rate of 10 per cent. The report also surveyed Indian consumers who said that nutrients like protein, fibre, vitamins, calcium and minerals were an important consideration while making a purchase. Furthermore, packaged foods with a promise of high fibre and high protein content and all-natural ingredients were favourites. 
With this shift in mindset, India's health and wellness foods market is growing. Consumers too are looking for wholesome foods that are beyond the weight-loss fads. Wholesome foods which give more energy to the body have become more valuable than zero-sugar and zero-fat products. 
We looked at five health and wellness food brands in India worth trying. As more startups are gearing towards offering such products, here's what's already in the market. 

Slurrp Farm

A brand started by two moms in 2016, Slurrp Farm's recipes claim to have come from grandma's cooking. The founders saw a lack of healthy snacks for kids, and decided to stock those supermarket shelves with fun products instead. Their offerings are millet-based and fun to eat. Some of them include beetroot millet dosas, millet pancakes, snacks that are made with millets and are baked, cake mixes, plant-based flours and more. Their range is ever expanding, and the products can be enjoyed by children and adults alike. Slurrp Farm's range has no added preservatives, no trans fat, no artThere are no artificial colours and flavours.

The Whole Truth (And Nothing Else)

Known for their protein bars, The Whole Truth (formerly, And Nothing Else) is a brand that aims to reveal everything that's packed into the food. The brand came in the market with a packaging that listed all the ingredients boldly in the front, so that you wouldn't have to squint your eyes and read an ingredient list that barely made any sense. There are no hard-to-pronounce chemicals, and the products are all-natural. The Whole Truth offers muesli, protein and energy bars, and immunity balls. All are healthy snacks aimed at those who hit the gym for hours or are conscious about their food intake.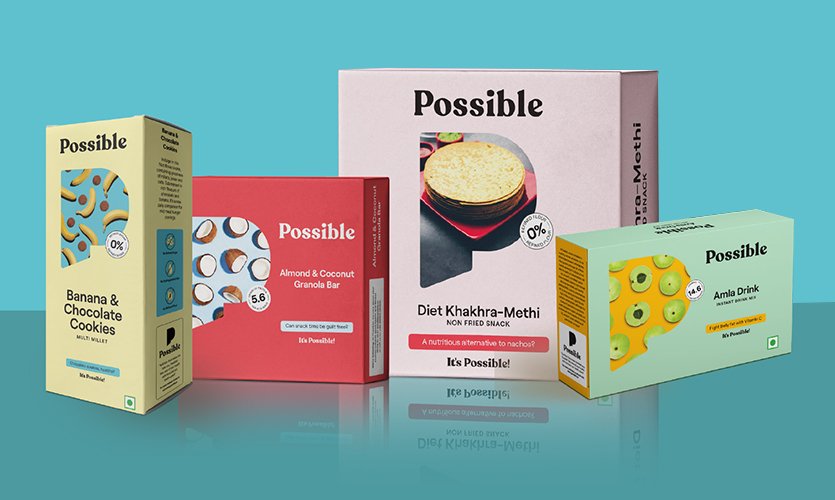 Possible (Truweight)

The brand offers research driven nutrition service and food products that lead to sustainable health, weight loss and management of lifestyle diseases. The brand offers programs that include a personal coach who customises a diet plan and selects foods to eat from Possible's range. Their customised health supervision, personal coaches and nutrition-dense diets, the company aims to teach people the psychology of food and how to consume it to live a healthier lifestyle. Recently the brand introduced a Sania Mirza Signature collection. It unveiled a breakfast and snack kit in collaboration with the athlete. The breakfast kit includes offerings like 
millet idli, quinoa dal dosa, red rice poha and apple cinnamon oatmeal. The snack kit includes, diet khakhra, banana chocolate cookies, amla drink and almond granola bar.

Buy Here.


The Bread Company India

A lack of healthy breads gave birth to The Bread Company in 2018. With market shelves stocked with breads containing preservatives, added sugars, additives, emulsifiers and more, this brand offers breads with "no nasties". Their products are made with wholesome ingredients without any refined sugars or preservatives. While the brand started with offering breads, they've now expanded their range to snack mixes, cookies, energy balls, cereals, and raw superfoods.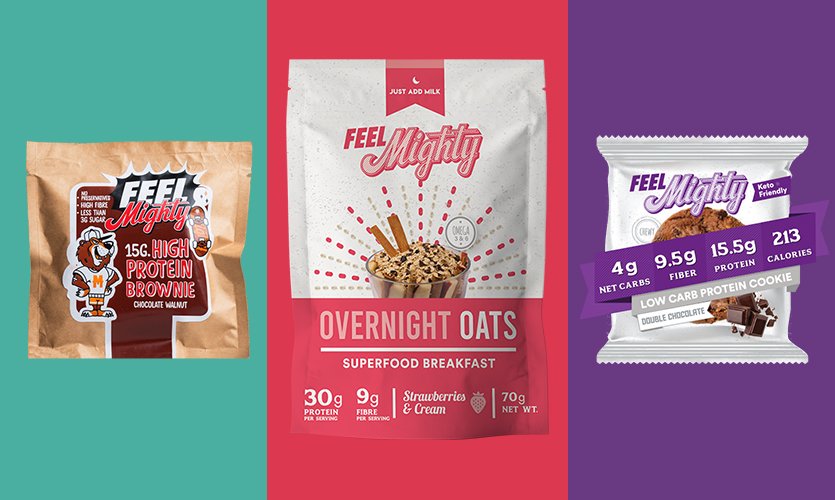 Feel Mighty

Focused on keto-friendly foods, the brand's sole aim is to offer products with healthy ingredients that'll make you 'Feel Mighty'. The brand believes in the importance of fitness and good health and is committed to help consumers achieve that via their products. You can snack on their cookies, high-protein brownies, low-carb brownies, and overnight oats. Their desserts can be snacked on guilt-free and are ideal for those who're conscious about what they consume.
Read more about local brands from Ahmedabad offering something unique.