Everyone found some hobby through the multiple lockdowns. An 18-year-old from Puri, Orissa expressed his feelings and vision through artefacts made of matchsticks. Saswat Ranjan Sahoo born in a small village near Puri, Orissa is currently pursuing his graduation. Sahoo made the most of the lockdown by working on creating idols to stereos with matchsticks. Since then, he's been garnering praise and appreciation along with winning awards for his beautiful and extraordinary work. 
In a conversation with The Sparrow, Sahoo talks about how power issues during lockdown gave him the idea of using match sticks to create art. While lighting candles and diyas, when he used matchsticks his creative brain gave an alert to design something new using them. He started drawing the different designs he connected to and wanted to convey a message through; all the while silently planning on how he would build the creations. 
Sahoo began by crafting an idol of Lord Jagannath using 3,635 matchsticks to pray for the well-being of people and the eradication of the pandemic. Sahoo took 11 days to design this art piece. "I was very disappointed and sad that temples were closed and people can't pray to their lord, so I designed Lord Jagannath Murthi to deliver my prayers to him for people's well being and I prayed for the opening of the temples." Selected for India Book of Records, Sahoo expressed his desire of gifting this precious art to D. Jagatheesa Pandian, the current Vice President and Chief Investment Officer of the Asian Infrastructure Investment Bank.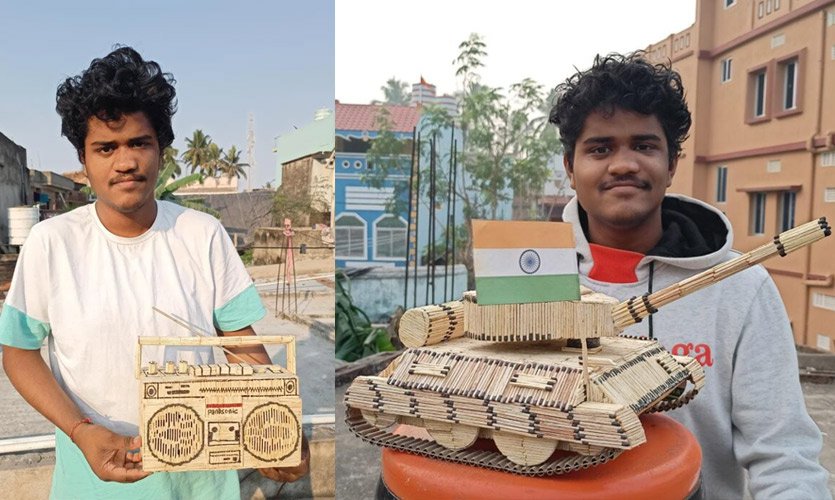 Sahoo's love for cricket and the excitement of beginning the test series again was expressed through the Border Gavaskar Trophy made with 100 packets of matchsticks. Border- Gavaskar Trophy is a Test Cricket series played between India and Australia. The series is named after Australia's Allan Border and India's Sunil Gavaskar to celebrate the record-breaking achievements of the two cricketers. 
Describing the piece, the length of this structure is 23-inches and its width is 9-inches. Sahoo says, "I made this idol to give all the best wishes to both the teams for this beautiful series of cricket."
After making two successful and beautiful structures, there was no looking back and Sahoo waited to work on his next project, a special creation for all the Army soldiers on the occasion of Army Day. With constant support from his family and hard work, he created the Indian Army Tank using 2,256 match sticks in just 6 days. "I made this idol to pay tribute to our real heroes who sacrificed their lives to save our lives. This year India is going to celebrate the 73rd army day. By making this idol I pay my respect to our soldiers of the Indian army," Sahoo added.
Since designing these models, Sahoo has become the talk of the town. From family members wondering how and when Sahoo worked on all of this, to the entire neighbourhood praising his exquisite work. All of this has motivated Sahoo to keep working and designing new craftwork.
Living in a small village, Sahoo loves listening to the radio with his family members. He talks about how the radio keeps them connected to the world around them and even brings a smile to their faces. Paying a tribute to and expressing his love for the radio, he crafted a replica of a 1980s radio using over 3,000 matchsticks for World Radio Day, which is celebrated every year on February 13.
The artist says, "In making this replica of the Panasonic stereo, I extend my support to all the radio programs and request all the people to listen to radio programs regularly. It took four days to build this replica using 3,130 matchsticks". Sahoo revealed that while planning on what to make for Radio Day, he searched for the first radio that was invented. During this course, he came across this stereo, which attracted him and he decided to replicate it through matchsticks. 
Sahoo's creations have inspired a lot of youngsters in the village to follow what they love and showcase their talents. But as criticism is a part of every artist's life, Sahoo has faced some too. "From the swelling on my face to the art I make, people thought all of this was wasteful and baseless, leading nowhere; but my family always stood beside me. The pride in their eyes when they see me in papers and the news is what motivates and keeps my dream awake," he adds.