About an hour from Ahmedabad lies a resplendent view for all nature lovers. When the sun gleams on the water of Thol Lake, it makes for a view so serene that you forget all your worries. Once a mega getaway for families and students alike, does Thol suffer from the Covid-19 after-effects? 
It was a beautiful Sunday morning, the drive was smooth, and the birds were chirpier than ever (probably a side-effect of fewer humans on the streets). As you pull through the narrow lane that dissolves into the sanctuary, you'll notice the multiple cars blocking in the driveway. For someone new, this may look like a jam-packed area, but if you have been visiting the lake for a long time, you know that for a Sunday morning, there aren't enough cars. In the (g)olden days, you would have to wake up in the wee hours and drive as fast as possible only to find a parking spot. However, that Sunday was different. It was almost ten in the morning, and there was still plenty of space available.
The sight in the sanctuary was usual. The ever-smiling faces of Thol admirers were nowhere to be seen. Not because they were all wearing masks, but because you could also see a hesitation, an itch to make sure you are as safe as possible. Most of the people would have missed it, but for someone who had the same expressions on their face, it was quite apparent. The once 'snacking in the open air' patrons preferred the comforts of their cars.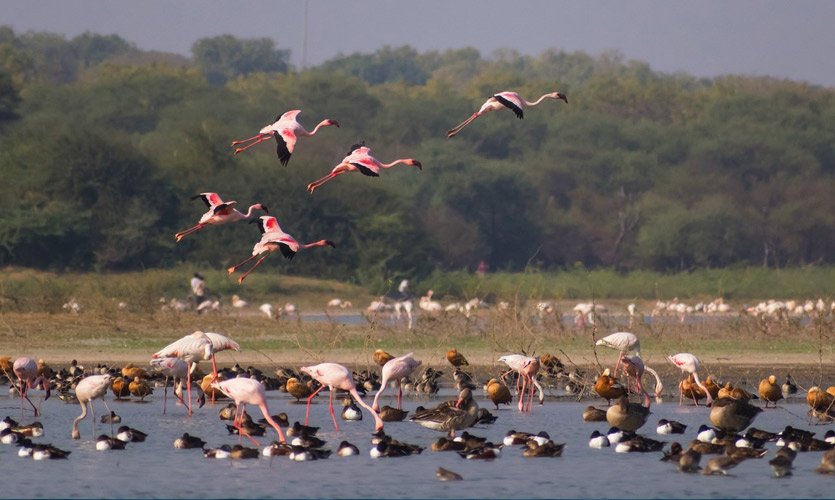 Other than the families having breakfast in their respective cars, a few youngsters were spotted clicking pictures near the Hollywood-esque sign of the sanctuary. One of them reached out to ask for help to get a photo clicked. Note that he wasn't scared of handing his camera to a stranger who may or may not have Covid. When asked, all Aditya from Shilaj, Ahmedabad could do was shrug and say, "I've lived my life in fear for the past one year. I don't care about Covid. The no-going-out rule will kill me before that." Ironically, the next thing he did was wipe his camera and sanitize his hands. As did yours truly.
For the most part, the whole experience was better than ever, thanks to no overcrowding. The walk around the exquisite lake was as bedazzling as it could get, if not more. In a feeling to behold, you will find yourselves lost in the allure of nature and even forget that the whole world is fighting to survive. The spectacular view combined with the fresh air and the sounds of happy birds will undoubtedly put you in a trance. People are happier than ever, you are calmer, and everything seems perfect until you realize that it's almost time to return to the humdrum of city life. 
From a tourism point of view, sure, Thol suffered a lot. But, from a peaceful getaway standpoint, Thol is thriving, waiting for you to go there and melt your worries away.